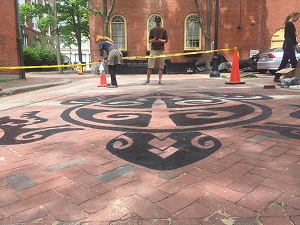 What is going on in Derby Square? What are those people doing to the sidewalk? And why are they having a good time? Those people are volunteers assisting artist Liz LaManche who is creating a public art installation titled "Salem's Connected World."
From her blog LaManche explains "City of Salem is commissioning a Connected By Sea companion piece as a temporary installation for their summer arts festival season, to be painted on the pedestrian brick walks of Derby Square around the Old Town Hall and down through Artists' Row."
Art interpreted & rendered in the form of a tattoo!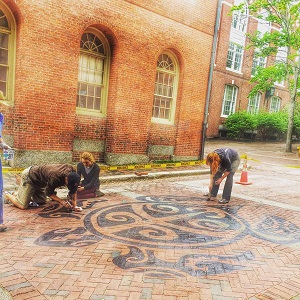 She continues, "It will highlight Salem's seafaring history, cultural inputs and world connections, informed by the fantastic collection in the Peabody Essex Museum, where I've learned a tremendous amount over the years from their Native American and Asian trade goods collections."
The schedule for the installation is as follows:
Layout of artwork taking place May 15-21
Inking in to happen May 21-30
Both phases can use people of varying skill levels
Layout can have people holding and moving things,
Inking needs people comfortable handling a brush, but can be either making good lines or inking in defined areas.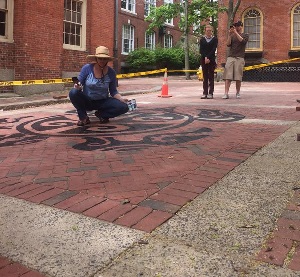 In discussing the first day, LaManche remarked, "Excellent day kicking off tattoo project in Salem!! Half the ground prepped, placement decisions decided, volunteers found and met, a fantastic bunch of people up here with a desire to make cool stuff!"
For more info on the project, check out this Creative Salem feature story.
Intrigued? Interested? To join the volunteers, contact Deborah Greel, the Public Art Planner for the City of Salem at dgreel@salem.com or call 978-619-5681. "Salem's Connected World" is funded by the City of Salem in association with the Public Art Commission.
(All pictures courtesy of John Andrews at Social Palates Photography)