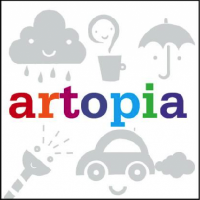 Vibrant and creative are words to define the arts & culture scene of Salem — and those words will take physical shape this Thursday from 6-9 pm as Artopia takes over the monthly PEM/PM event, hosted by the Peabody Essex Museum.
Now, this blog may shake a little as you read it because we at Salem Main Streets are very excited about Artopia as so many local groups and festivals are involved! It is a real coming together of the community.
"The theme of this event is 'Art in the Everyday,' which is part of why we're playing a lot with the creation of art and elevating 'ordinary' objects or activities," reveals Kylie Sullivan, Main Streets Manager.
For example… contribute to a fiber arts project by knitting spring flowers with the folks from the Salem Arts Festival… sit and sketch with local group Sketch Collective… drum along with Express Yourself… catch Salem Sketches — short films created right here in Salem — which screened at recent Salem Film Fest… create your own instrument with Salem Jazz & Soul… and enjoy a 15-minute gallery experience highlighting some "ordinary" gems in the museum's Japanese art collection.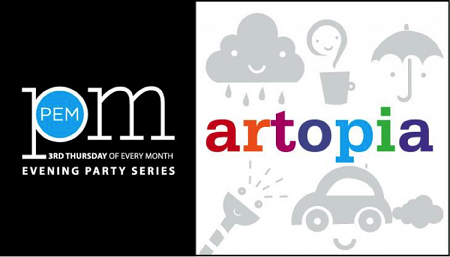 For Artopia, PEM is partnering with the Salem Arts Festival and Creative Salem to super-charge this celebration. PEM/PMs are held on the 3rd Thursday of every month as a way to introduce and invite the community to utilize the resource that PEM is to the community.
Adds John Andrews of Creative Salem, "There will be roaming performance artists including members of ARTiculate this. Featured live artists will be Denny Tentindo,  Ben Stebbings and Jamie O'Neil.  Also at our Creative Salem table, we'll have Allison White doing a needlepoint demo."
The evening, as with all PEM/PM events, includes music, cocktails and conversation with separate stations for creativity. But Artopia doesn't stop there.
Local author and meatball aficionado Adeline Myers, will discuss her recently published cookbook Global Meatballs and even prepare a couple of her favorite recipes. A well-crafted meatball can be a work of art!
Beer lovers can glean creative brewing insights from Newburyport Brewing Company and sample its locally brewed and appropriately named beers: Newburyport Pale Ale, Plum Island Belgian White and Green Head IPA.
And as they say, "that's not all folks" as the evening will also feature North Shore-based Ross Livermore Band. A local favorite, the band has toured throughout New England and beyond and was recently nominated for Best in State in the New England Music Awards.
One other item to note, and of personal interest to those of us at Salem Main Streets and the Salem Arts Festival, is the Front Yard Street Art project.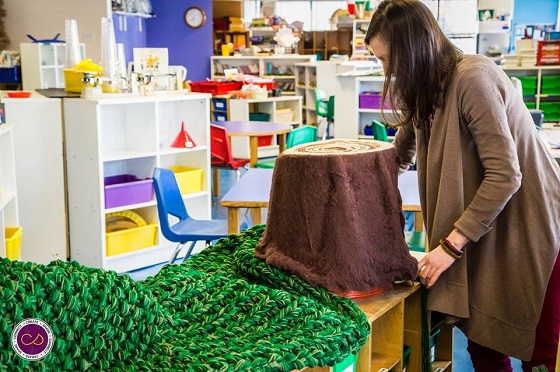 Front Yard Street Art is a collaborative fiber arts project open to community members and groups of all ages and abilities. Create your own "green space" (field, garden plot, jungle, etc.) made of yarn, felt, fabric, and whatever else inspires you! Each piece will become part of a large-scale temporary art installation transforming Front Street during the Salem Arts Festival weekend.
Examples created by the students at the Phoenix School in Salem, will be on display Thursday evening as well.
And what is the cost of admission for this extravaganza? For PEM members and Salem residents (with ID) it is free of charge. For nonmembers, it is only $10 at the door. PEM is located at 161 Essex St., Salem Ma. For more info go to www.pem.org or call 978-745-9500.
Artopia is a most creative reason to venture out into the evening.
(Phoenix School photo courtesy Joey Phoenix)