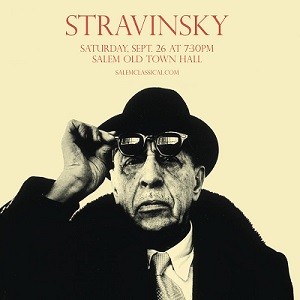 When first performed at the Théâtre des Champs-Élysées in 1913, the avant-garde nature of Igor Stravinsky's "The Rite of Spring" caused a sensation and reportedly near-riot in the audience. New local organization Salem Classical is bringing this work to Salem on Sept 26th to Old Town Hall in a slightly different format through the Cambridge-based Composer Focus concert series.
Salem Classical is intended to become the home of classical music located in the heart of the pedestrian zone of historic downtown Salem with the Old Town Hall as its principal venue. Created to establish a musical home for local and touring musicians, it is designed to provide a constant source of classical music to the residents of Salem and the thousands of visitors to the city.
The brainchild of Richard Guérin, the vision of Salem Classical "is to remove the boundary between the public and performers, bringing some of the greatest music ever composed to Salem. Audiences are invited to frequent concerts as a complement to the overall cultural experience in the city of Salem that includes dozens of award-winning restaurants, shops, and museums."
Salem Main Streets, Creative Salem, and the City of Salem have partnered with Salem Classical to bring this project to fruition.  "We have a cultural scene that's constantly evolving in Salem, but classical music, especially chamber music, really doesn't have the presence in the downtown that it should," says Salem Main Streets Executive Director Kylie Sullivan. "Richard came to us with this idea for a classical music series that would be high-quality and innovative, but accessible in every sense of the word – content, location, ticket price – and it just seemed like a no-brainer that this needed to happen.  And with a beautiful asset like Old Town Hall, it's such a natural fit."
This Salem Classical performance, "Composer Focus: Stravinsky at Old Town Hall," will feature chamber music transcriptions of Stravinsky's revolutionary "The Rite of Spring" (a Salem premiere) and his neoclassical "Pulcinella".  Also included will be shorter solo and chamber works, and commentary by Composer Focus founder Nick Dinnerstein.
This presentation of the Composer Focus concert program includes:
Salem premiere of the four-hand piano version of The Rite of Spring performed by Paul Jacobs and Yilin You
Suite italienne for violin and piano from Pulcinella
Three Pieces for String Quartet with violinists Angel Valchinov and Li-Mei Liang, violist Chen Lin and cellist Nick Dinnerstein
Elegy for solo viola performed by Chen Lin
Tango for solo piano performed by Paul Jacobs
Composer Focus is a classical concert series, specializing in 20th and 21st century chamber music for piano and strings. The series introduces local audiences to some of the most original and accomplished composers of our time through vibrant performances in Cambridge and in towns throughout New England. Each concert explores the music of a single classical composer and consists of major as well as rarely performed works in a variety of instrumental combinations. For more information please visit www.composerfocusconcerts.com.
For tickets go to this link.  Tickets are $10 for general admission, $5 for seniors and students. The performance begins at 7:30pm at Old Town Hall which is located at 32 Derby Square.
Salem has welcomed Jazz, Steampunk, and other forms of music— time for classical, wouldn't you think?