"To get off to a good start" and "to enter energetically" are two definitions provided at the Merriam-Webster.com website  for the word launch. No wonder we picked it to describe our annual New Year's Eve celebration here in Salem Ma, this year set for Wednesday, Dec. 31st from 4-7pm.
LAUNCH!  is a family-friendly, high-energy, music-filled, kick-off for the new year. We want you to be a part of LAUNCH!  Everyone is welcome. Salem resident or not. No need to drive to and then back from Boston. Come on down to Old Town Hall and Derby Square.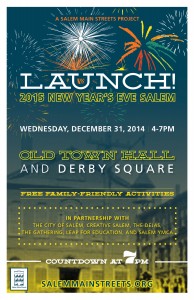 And yes, 4-7pm. Our balloon drops promptly at 7pm. We will have the Big Countdown a full 5 hours before everyone else — unless you are celebrating with friends, family or co-workers in Accra (Ghana), Casablanca (Morocco), Dublin (Ireland), Lisbon (Portugal), London (England) and Reykjavik (Iceland) among other global locales where it will be midnight.
"We organized LAUNCH! for the first time last year, and it was immediately clear that this needed to be an annual tradition where the community could truly come together," states Kylie Sullivan, Salem Main Streets Manager. "Plus there's still plenty of time after our early countdown to catch one of the many other great events happening all over town on New Year's Eve!"
There will be New Year's Eve related activities, crafts for kids of all ages, music by the Dejas, the OnPoint Ensemble, the Boondock Sinners, and more. This event is free of charge thanks to the support of our partners, the City of Salem, Creative Salem, the Dejas, the Gathering, LEAP for Education, and Salem YMCA.
LAUNCH! will be a great way to ring in the New Year with your entire family at a reasonable hour, and then still be able to go to other parties later (with grandma or aunt Jane watching the kids).
Plus, it's early enough that you can make a lot of noise and the neighbors won't mind.