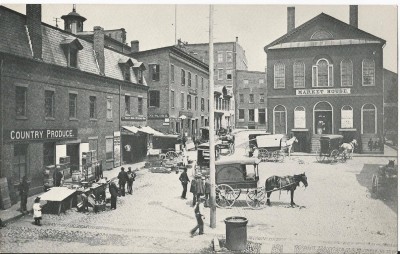 Salem is a community whose 'life' is steeped in the past, be it the history found in the witchcraft trials or maritime adventures or architectural advancements. So it comes as no surprise that a group of local vendors would build upon that theme with a special Vintage Market, Saturday, September 12th, in historic Derby Square, from 10am – ­ 3pm.
Explains Jane Stauffer, one of the organizers, "We'll have old prints, paper and artwork, vintage toys, mod-clothing and jewelry, plus home decor, along with retro kitchen utensils, ceramics, glass and gardening items."
Also featured will be a diverse selection of textiles and linens, salvage pieces and some books and ephemera on Salem.
"We have such a variety of dealers," advises Stauffer "that there will be something of interest for everybody."
The group of Salem area dealers includes Connie Hoar from " The Chalifour Collection," Diane Guerette from "Decades of Decor," Ann Knight from "Cabbage Rose Antiques," Stacia Kraft from "Federal St. Designs," Jim McAllister from "Culture Corner," Gus Sousa from "Collins Cove Appraisers and Conservators" and Stauffer from "Homemaker Collectibles."
And here's a special treat, several dealers also plan to bring Halloween and Holiday decorations from the past.
"We hope people will come by and browse. You never know what you might find," advises Stauffer.
Providing musical entertainment at the Vintage Market from noon – ­ 2pm will be Rachel Baldwin; she is appearing as part of the Creative Salem, Derby Square free music series program which has been presented every Friday and Saturday in Derby Square from noon – 2pm this summer.
Mid-century modern, retro kitchen, pottery, textiles, vintage toys, glassware, salvage, prints, art & old Salem ephemera— all in one place. A great Saturday day trip or date. And it's in historic Salem! How can you pass that up?