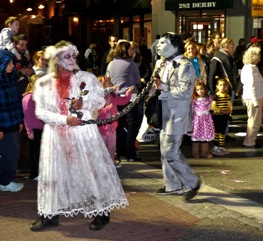 Really, those are the words that should guide you in your visit to Salem Ma and interactions with other enthusiasts celebrating Halloween here on Friday.
Being that Halloween falls on a Friday, we are expecting a lot of you to invade/join the party. Keep that in mind when you consider your method of transportation in AND out of the city.
And be prepared to leave at the end of the evening. We appreciate you having a good time. Of course, when the party's over, the party's over and we have to clean up. But, the street party concludes with fireworks. Yes we have fireworks on Halloween!
We try to make it a fun event, but to do so, there are some rules to also make it safe for everyone. Please take a few minutes to look them over.
That link also gives a schedule of the day & evening events, courtesy of our friends at HauntedHappenings.org.
For example, did you know we also have a Fiesta Shows Carnival, a Shock Top Beer Garden, more than one costume ball, and live music in spots across the city? This is after all, a big bad Halloween bash to end our month-long Haunted Happenings celebration.
Oh, also, do not bring weapons real or fake to Salem on Halloween. You may know how to properly wield a broad sword but someone else may not. Anything that looks like a weapon will be confiscated.
Enjoy and come back next year!