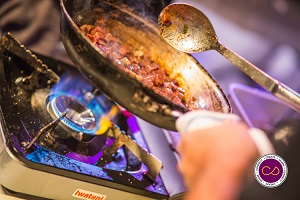 Blending food, competition and a fundraising event, the Salem YMCA and Creative Salem have partnered to host the 2nd annual Salem's Best Chef competition, Nov. 7th from 6:30 – 9:30pm at Ames Hall within the Y building.
You are invited to be on hand to observe local Salem chefs facing off to see who reigns supreme.
"Salem is a force in the culinary scene," explains John Andrews of Creative Salem. "The one constant we have all year long (through Haunted Happenings, the Maritime Festival, cultural happenings, growth in the city, etc.) is an ever growing and changing culinary scene."
He continues "With those plethora of events throughout the year, the ever expanding culinary scene and the popularity of cooking competitions, it was a unique but logical choice to not only highlight some awesome local chefs but to give a little sample to people to try out some of the offerings in Salem."
Adding to the local theme, each chef will create three dishes utilizing ingredients from local vendors that participate in the Salem Farmers Market!
Also included in the Best Chef event will be a "Taste of Salem" featuring local restaurants, brewers, and cider masters offering samples to attendees. These include:
Far From the Tree Cider
AMano Italian Kitchen
Ken Rothwell Catering
In A Pig's Eye
The Lobster Shanty
Opus
The Cheese Shop of Salem
Deacon Giles Distillery
KOTO
This event supports the Salem YMCA and its Annual Campaign which helps fund community initiatives in the areas of the achievement gap, teens, aging population and childhood obesity. It also supports greater access to Y programs in health and wellness, aquatics, camp, child care and in the areas of arts and theater through scholarships and financial assistance.
Guest judges include: the 2014 winner Antonio Bettencourt; 2014 Businesswoman of the year Brandi Dion, owner of B&S Fitness; and the creator of Nosh Northshore and Dinner Dealer Jessica Brand Alves.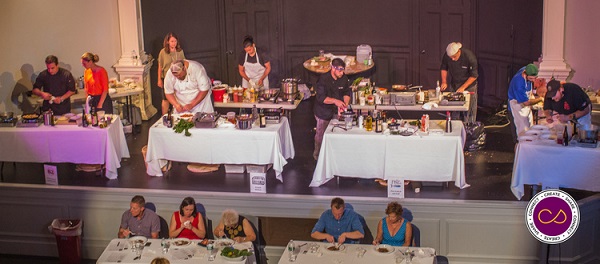 Andrews points out that last year's event revealed that "Putting the focus on the chefs in a city where we don't really do the 'celebrity chef' thing didn't involve some of the ego that can usually go into these events."
In fact, it was just the opposite, providing a chance for the locals to really see who is cooking for them in their favorite local restaurants.
Andrews, a former chef himself reveals, "One of the wonderful things about the culinary scene in this city is that a lot of the staff that work in these places frequent each others establishments so there is a real wonderful sense of camaraderie at events like this."

Additional entertainment at Best Chef  will be provided by DJ Noel Snow and a fun-filled photo booth.
Andrews adds, "With Mayoral visions of a shared kitchen incubator space.. An exciting artisanal beer, cider and spirit scene… A vibrant and thriving Farmers Market…The potential turning of the page on the possibility of food trucks… and some really wonderful new options for people to dine… we need residents & visitors to support all these initiatives and new businesses; hopefully events like this and the upcoming Salem Restaurant week will encourage people all over the region to start seeing Salem as the culinary destination that it is."
Tickets are $35 or $50 for VIP access! (VIP access includes a drink ticket and balcony seating!)
Call 978-740-9622 for more info.
(Photos courtesy of Social Palates Photography)