…And you thought Halloween was busy in Salem. Today and tomorrow we have several events to lead off the winter holiday season in style.
In search of the perfect, unique little gift that says "I put some extra effort and didn't just drive to the mall or walk into a giant department store?" Look to Old Town Hall in Derby Square where today (11/28/14) from noon to 9 pm will be an Art Market, courtesy of the Salem Collective of Artists & Musicians, the Salem Arts Association and Marrow.
There you will discover handcrafted items such as paintings, fiber arts, glass, pottery, jewelry and more. These works of art are created by local artists.
But that's not all, later from 7-11 pm will be a Holiday Dance with a portion of the proceeds to benefit the Salem Food Pantry.
It's just a tree and some lights. But it is so much more. At approx. 6:15 pm on Nov.28th, Lappin Park becomes the focal point of the city when residents join Mayor Kimberley Driscoll in lighting Salem's Holiday Tree.
(The Park is the grassy area next to the Bewitched Statue at the intersection of Essex Street and Washington Street— directly across from our still standing Haunted Happenings Visitor Info Booth!).
It is a holiday tradition that lights up not only the tree but the eyes of children in the crowds with awe and delight. So bring the entire family out for carols with the Paul Madore Singers; as we expect it to be a bit cool, there will also be available cocoa and snacks!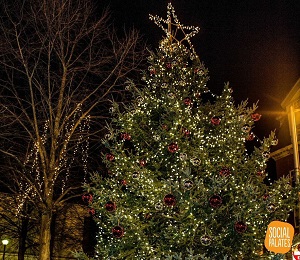 The event is organized by Salem Main Streets and the City of Salem. This year's tree is provided in part by a donation from the MeetingHouse Church and numerous donations from Salem's October visitors. Decorations and lights were made possible by individual contributions and donations from a number of local businesses, including Morning Glory Bed & Breakfast.
Salem Main Streets would additionally like to express appreciation to North Shore Marine and All Star Collision & Towing for their services in delivering the tree, and the Salem Department of Public Works and Gary Gill for decorating the tree.
And you need to put presents under your own tree (if you do a tree). Can't find what you need at the Art Market? Black Friday shopping may not help you. We suggest you widen your search zone to all of Salem. We are a small business mecca. Almost every store is owned and operated by a small business operator, not a chain. Salem is where you can walk a block in any direction and find unique items for men, women, children and pets.
Saturday, Nov. 29th is Small Business Saturday, a day to celebrate and support small businesses and all they do for their communities. To encourage Salem residents to "Shop Local First" this holiday season, Mayor Driscoll has announced that parking in Salem will be free on November 29th in both municipal garages and on Washington, Front and Essex Streets. On November 30th all parking will be free, including at all meters, in both municipal garages, and in all municipal surface lots.
You can drive to the malls, park half a football field away from the stores, and once inside feel like you are on a treadmill forced to walk with the flows of the crowds. Or come to Salem, find convenient parking, and walk whatever way you feel to stores or restaurants. It's your choice. Really, it's your choice.