Talk of the town this past week has been about fashion. Salem, the Witch city, a hot spot for fashion? Yes, it is. An evening of fashion, fun, dancing, and more takes place Friday, April 8 at 7pm in Old Town Hall, as a fundraiser for the upcoming Salem Arts Festival.
The popularity of the SAF Fashion Show Fundraiser is not just in the fashion but in the community input. The fabulous fashions come from local boutiques, including: Avalanche Company Store, The Boutique, Lifebridge's Second Chance Thrift Shop, Modern Millie Vintage & Consignments, Ocean Chic Boutique & Waterbar, Peabody Essex Museum Shop, RJ Coins and Jewelry, and TBT Post.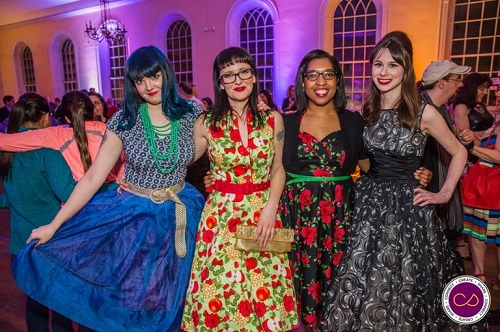 And even the make-up is contributed locally by awesome artists from Laura Lanes Skin Care, Rouge Cosmetics, and Radiance Lifestyle Salon.
But the local input doesn't stop there.
If you'd like, you can actually start the evening earlier at 5 pm with art and a glass of prosecco at the opening of Ellen Hardy's "French Toast" show at The Ugly Mug Diner.
Next at 6 pm, head over to The House of the Seven Gables for the opening of the Caroline Emmerton exhibit – AND if you bring your Fashion Show Fundraiser ticket with you, you can get a free drink!
Then, just before 7pm, head back back for the SAF Fashion Show Fundraiser at Old Town Hall.
It will be hosted by local comedian and Salem Comedy and Spirits Festival founder Mark Scalia.
You can dance the night away with DJ Noel Snow, with additional performers to be announced. Food, drink, and  raffle will make the evening complete.
In fact,  Bambolina, Ferreira Foods, Opus, and Jodi Bee Bakes will provide bite-size treats to sweeten up the night!
SAF Fashion Show Fundraiser has been generously sponsored by People's United Bank. Special thanks to Salem Food Tours, Creative Salem, and the City of Salem in coordinating this event.
Old Town Hall is located at 32 Derby Square in Salem. For tickets order on-line, or call 978-744-0004, ask for Kylie Sullivan at Salem Main Streets.
Your support will help to keep the Salem Arts Festival growing and free for all!