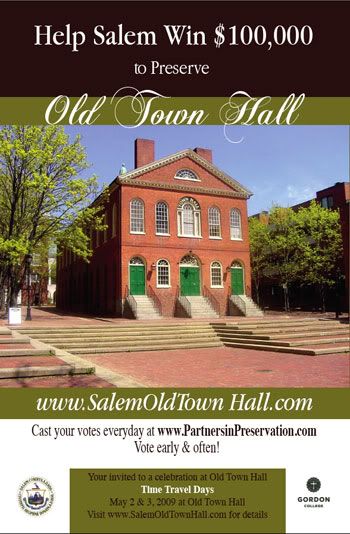 Click here to vote.
If Old Town Hall gets the most votes, it's guaranteed to receive $100,000. The funding will help preserve the building for future generations.
You can vote once a day from April 14 to May 17. Go to www.PartnersInPreservation.com to vote. Check out www.SalemOldTownHall.com to learn more and sign up for a daily e-mail reminder to vote. Previously we understood that you could vote once a day per email address but this information was incorrect. The actual rules are one vote per day per person.
As part of the competition, Old Town Hall will be hosting "Time Travel Days" on May 2 and 3. It will be a fun (and free!) event for the whole family. Go to www.SalemOldTownHall.com for details. And remember–for this competition it's important to vote early and often!