Where else but Salem MA could you welcome the New Year while at the same time celebrate the past? And still have time to welcome the New Year again! No, we haven't started sampling the bubbly stuff yet.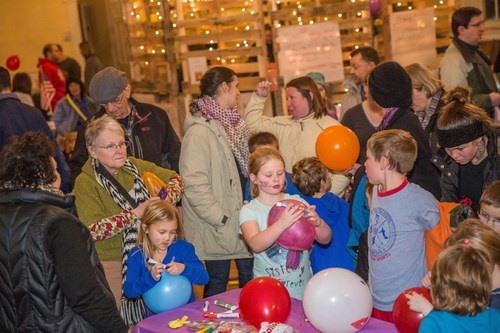 The City of Salem and Salem Main Streets are teaming up to throw LAUNCH!, our third annual New Year's Eve party, this Thursday, Dec. 31 from 4 pm to 6 pm at historic Old Town Hall, Derby Square. Let's repeat the times, 4-6pm. Bring the entire family – yes the kids too, it's early enough!
"When we organized LAUNCH! for the first time, it was immediately clear that this needed to be an annual tradition where the community could truly come together," states Kylie Sullivan, Salem Main Streets Executive Director. "Plus, there's still plenty of time after our early countdown to get to your own party, or catch one of the many other great events happening all over town on New Year's Eve!"
Attendees can 'rock the night away' with local musical favorites including The Dejas, BlacKat, and Kevin William, as well as a number of "rising star" teen musicians. There will be New Year's Eve related activities and crafts for kids of all ages, thanks to event partners The Gathering, The Phoenix School, and Creative Salem.
Kylie adds, "I'll be honest, this is truly one of my favorite events of the year. We conduct many events which might arguably have a greater impact, but I love that this event is simply about celebrating together as a community. We're also so lucky to partner with the City of Salem in using Old Town Hall – there's something lovely and symbolic to me about getting to use this beautiful public building that celebrates the past, and then throw the doors open to the community to welcome the year to come."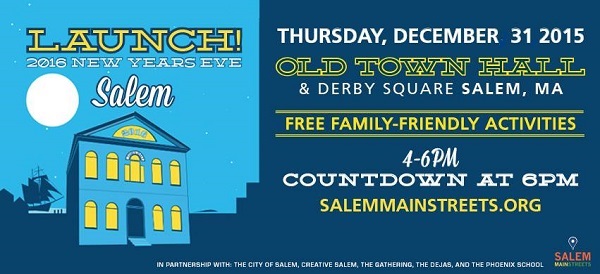 Speaking of Old Town Hall, we're also still looking for a few helping hands to join us this Thursday, especially for:
Set up (2 to 4pm): Volunteers should ideally be able to lift up to 25 pounds.
Craft activity support (4 to 6 pm): Help activity leaders as needed.
FACE PAINTERS (4 to 6 pm): We're not looking for high levels of artistic talent – ability to paint hearts, stars, and "Happy 2016!" is sufficient. We'll provide the paint and brushes.
Break down (5:45 to 7pm): Volunteers should ideally be able to lift up to 25 pounds.
This event is free to all and family-friendly, with a $5 suggested donation to help support the Salem Main Streets "Holiday Happenings" initiatives, including the wreaths and ribbons around the downtown, the Holiday Tree, and LAUNCH!
There will be an early countdown promptly at 6 pm.
For more info about New Year's Eve Salem, contact Kylie Sullivan, Salem Main Streets Manager, at (978)744-0004 or kylie@salemmainstreets.org, or visit http://salemmainstreets.org/ and follow Salem Main Streets on Facebook, Twitter, and Instagram.
And have a Happy New Year!