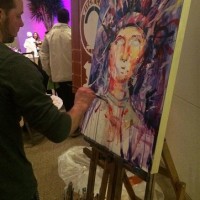 Over 600 people decided that what Artopia had to offer was something they wanted to experience. Thursday's PEM/PM monthly late night party at the Peabody Essex Museum was a grand old time and if we may say, an artistic success for all the community groups that came together to create the schedule of events.
Attendees were invited to…
… contribute to a fiber arts project by knitting spring flowers with the folks from the Salem Arts Festival (a Salem Main Streets project)… sit and sketch with local group Sketch Collective… drum along with Express Yourself… catch Salem Sketches — short films created right here in Salem — which screened at recent Salem Film Fest… create your own instrument with Salem Jazz & Soul… and enjoy a 15-minute gallery experience highlighting some "ordinary" gems in the museum's Japanese art collection.
And there was much more. Music that excited and moved the crowd from Ross Livermore Band. Front Yard Street Art, a collaborative fiber arts project open to community members and groups of all ages and abilities certainly attracted a lot of attention.
Hats off to Creative Salem, the Salem Arts Festival and, of course, the Peabody Essex Museum. Producing an event to attract over 600 people on a weeknight certainly indicates that art is not only alive & well in Salem— it also delivers an exciting environment.
(Video produced by JoeyPhoenixPhotography.com by way of CreativeSalem.com)