Jewelry, like clothing, can be a way to distinguish yourself from others or to identify with others, but the owner, designer, maker, craftsperson, salesperson and marketing director of Nikky Bergman Jewelry at Artists' Row in Salem MA feels "it can be an even more precious and personal thing."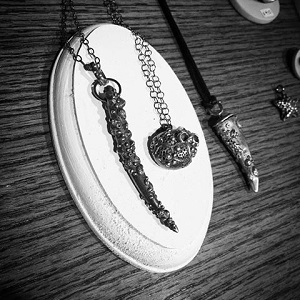 Nikky Bergman explains, "I am able to work one on one with clients to design and hand-make a piece of jewelry that they can't find anywhere else! Because I am the one making every piece, I am able to truly customize designs. I also come at the jewelry discipline from an artist's perspective, so the jewelry I make is far less traditional. This is a really relaxed environment, which is great if you have never had anything custom made before. You will not find any high pressure sales here."
Bergman started as a metalsmith in 2001 using the techniques learned in art school (BFA in 2004 from the Massachusetts College of Art & Design and MFA in 2008 from SUNY New Paltz) to make fine-art-one-of-a-kind semi-wearable pieces.
She adds, "I loved — and still do — the art form because of its specific relationship to the body and the associations that come with wearing something. It is so rich! Now, talk about wedding & engagement rings and you add so much more meaning!"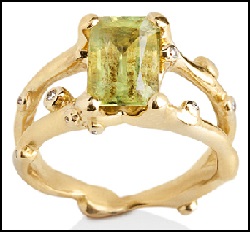 "It is so rewarding for me to work with clients who are getting married— this is a special time in their lives. It is really neat to be part of their wedding process and make such a meaningful and lasting part of it!"
She is also excited to be included in the incubation process at Artists' Row.
Bergman says "Artists' Row gave me the opportunity to pursue my business full-time. I have been in business since 2011, but this is the first year I am able to devote completely to it and it has been so much fun and so rewarding!"
She continues, "It is the perfect combination of a retail venue and studio workspace for me. It is so lovely to be able to showcase what I make and show people how it's made in the same space. It uses my time wisely, too. I can help a customer one minute and work on a new piece of jewelry the next! I think everyone on Artists' Row is using the space as a small business, creative incubator. I know I am! I don't know of another place like this and am so grateful to be a part of it!"
She shares her building space with candlemaker Liz Frasier the proprietress of Witch City Wicks and Bridget Alexander of The Pack Paper Company.
"Our customers benefit in that they get the latest and greatest from all of us," Bergman explains. "I know when Liz introduces a new fragrance or I make a new design, we show it in our shop first! And we are here everyday to meet our customers, get input from them, answer questions, give them insights into how something is made."
In fact, on Thursdays during the farmers market, she offered free fun kids activities, occasional workshops and hosted a series of visiting jewelers.
"It's so wonderful to meet the person who made what you are buying! You realize you are truly supporting someone!"
Nikky Bergman Jewelry at Artists' Row is located at 24 New Derby Street, Salem. For info go to www.nikkybergman.com or call 401-524-2412.