Bittersweet may it be, another Farmers' Market season is coming to a close. The stands will soon be bare. The Salem weekly Thursday outdoor gatherings of vendors and buyers from 3-7pm in Derby Square ends on 10/22/15. Which means you have one more opportunity to get the freshest of the fresh, in produce and baked goods for your dinner table.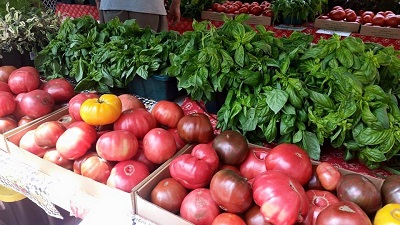 According to a Boston Globe  article, "The U.S. government recommends that American adults eat 5 to 13 servings of fruits and vegetables depending on your age, gender, and activity level," and while a Harvard School of Public Health study is suggesting eating any more than five servings a day won't further improve results, it does add more confirmation to that recommendation.
Researchers sifted through 16 studies involving 833,000 participants with the conclusion that going with at least the daily five servings "lowered the risk of dying by 25 percent."
Therefore, eating fruits & veggies is a good thing. And the Salem Farmers' Market has fruits and veggies (and bread, lobsters…).
The Farmers' Market also has been a strong supporter of the food stamp/SNAP program. That has also been a good thing.
According to USDA at farm markets across America, overall food stamp participation and spending has increased since 2008 when the program had an average monthly participation of 28,233,000 beneficiaries, and spent a total of $37,639,640,000. In 2014, the program had an average monthly participation of 46,537,000 and spent a total of $74,157,710,000.
Those are a lot of fruits and vegetables! So get down to our final of the season Farmers' Market before the stands are empty.
And just to keep your memories alive until next year's Market, this link will take you to the photos page of the Farmers' Market Facebook site (although two Salem Winter Markets are set for Nov. 22 at 3 pm and Dec. 19 at 1 pm, indoors at 217 Essex Street).