While one could say there is always something "magical" going on in Salem Ma, it is especially true on the 3rd Thursday of every month— courtesy of the Peabody Essex Museum. The PEM/PM event Digital Detox, scheduled for Nov.20th, is a perfect example.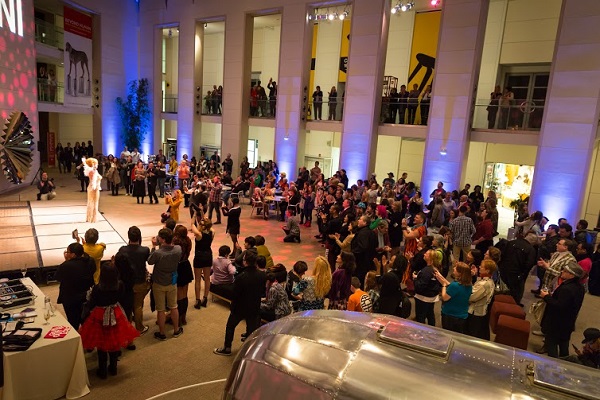 The public in invited to join in an evening away from the distractions of technology. Yes. Travel back to a simpler, yet more direct time of personally speaking to someone, or writing actual letters. Leave it to our challenge-taking local museum to "push the envelope" and experiment with this old-fashioned concept.
PEM/PM is an unconventional gathering feature cocktails and conversation, art making and music, culinary demonstrations and surprising experiences. Members and Salem residents (with ID) are admitted free of charge, while nonmembers pay a nominal $10 fee. The event runs after hours from 6-9pm
(Also on the third Thursday of every month, the entire museum stays open from 10 am to 9 pm.)
Doneeca Thurston, new PEM Adult Programs Coordinator, explains the rationale behind Digital Detox, "the inspiration draws from our permanent collection. A lot of our newer exhibits have digital components whether its music, interactives, or visuals, which has been really fantastic. While its great to incorporate technology and reach our audiences in new and exciting ways, we realize that there is still something very special about walking into one of our permanent galleries and just taking in all of classic artwork and sculpture."
She adds, "So this event is an invitation to power down and enjoy the evening engaging in the art of conversation, writing a heartfelt letter to a friend or loved one, or ease your mind with a peaceful meditation session."
OPEN MUSIC SESSION in the Atrium
Join in on this impromptu jam session led by The Dejas. Everyone is welcome.
LETTER WRITING in the Atrium
A long forgotten practice, letter writing. Pen a note for a special someone, PEM will provide the stamps.
NAPTIME in the Atrium
Let your phone get some much needed rest. As an incentive, PEM is even handing out specially designed sleeping bags, for your phone that is!
LIKE in the Atrium
Now you can "like" someone in person. PEM staff will be handing out thumbs-up stickers by the info desk. "Like" a friend or stranger- be sure to say what you like about them.
SELFIE in Studio 1, Create Space
Students from Montserrat will be on hand to help you capture the perfect selfie. Stop by the Create Space to have one of these talented artists draw your portrait.
ART-MAKING in Studio 1, Create Space
Create your own vinyl record art. Paint, bedazzle, draw, the possibilities are endless.
VINYL RECORDS in the Atrium
Spin some vinyl records, courtesy of Salem's own Hoofbeat Records
ART OF CONVERSATION at Pop-up's throughout the galleries
Salem State University's Philosophy Club brings interesting conversation to PEM. Join in on the conversations at several pop-up's throughout the galleries.
7:00, 7:30, 8:00, and 8:30pm
MEDITATION in the Indian Gallery, 2nd floor
Certified Primordial Sound Meditation Instructor, Susan Himml, will lead 20 minute meditation sessions. Sign-up at the information desk.
As the nights get cooler, this sounds like a very warm & toasty, friendly & comforting event. There will also be a cash bar and special small plate menu items from the Hawthorne Hotel. For more info, call the PEM at 978-745-9500, (or toll free 866-745-1876). The Peabody Essex Museum is located on East India Square (161 Essex St.) Salem.
(Photo of previous PEM/PM event (c) 2014 Peabody Essex Museum. Photo by John Andrews)