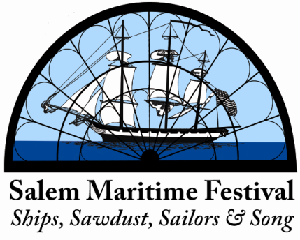 Ships, sawdust, sailors and song all in Salem this weekend as the National Park Service celebrates the 28th year of the Salem Maritime Festival.
The Salem Maritime Festival will run August 5th, 6th and 7th, featuring live music, historical reenactors, harbor cruises, demonstrations, interactive programs, arts, crafts, and more! The Salem Maritime Festival is hosted by Salem Maritime National Historic Site in cooperation with the Essex National Heritage Commission.
But, take note, this is not your typical ocean-themed event with one or two seafaring craft docked in the harbor for walk-aboard tours. Visiting & Participating Vessels include:
Lobster Boats

Schooner Adventure

Schooner Ardelle

Sea Shuttle's Endeavour

Schooner Fame, Full-scale replica of a War of 1812 Privateer

Sloop Friendship

United States Coast Guard Patrol Boat
Not surprising then that one of the most popular features of the Salem Maritime Festival will be the free 90-minute boat rides around Salem Harbor. In fact, on Saturday, festival goers will be given the opportunity to enter a series of raffles for chances to set sail in Salem harbor on some of the above-mentioned craft. Lottery entries begin 10:30am
Music is also a big part of this festival.
Friday, August 5th:
6-8pm, Squeezebox Stompers – Cajun/Zydeco
Saturday, August 6th (MC Merrill Kohlhofer):
10am, Wolf Music – Sea Chantey
11am, Ye Mariners All
12pm, Warszawiaki Orchestra – Polka Music
2pm, Campbell Music – Folk
3pm, New Bedford Harbor Sea Chantey Chorus
4pm, Mamadou –West African World-Fusion
6-7pm, Salem Philharmonic Orchestra
Sunday, August 7th (MC Tony Toledo):
11am, Wolf Music – Sea Chantey
12pm, Ron Reid Music – Steel Drum/Caribbean
1pm,Tony Toledo (MC) – Story Telling
2pm, Marina Evans – Folk
3-5pm, Atwater-Donnelly – Folk
And beyond this being a 3-day festival, beyond this being part of the Salem Heritage Days festival, it is also in honor of the National Park Service's Centennial year.
On August 25, 1916, President Woodrow Wilson signed the act creating the National Park Service, a new federal bureau in the Department of the Interior responsible for protecting the 35 national parks and monuments then managed by the department and those yet to be established.
"The Centennial will celebrate the achievements of the past 100 years, but it is really about the future. It's about kicking off a second century of stewardship for America's national parks and for communities across the nation.  Most importantly, it's about inviting you to join us." — NPS
History. Adventure. Fun and games. And a lot more await you Aug. 5-7 in Salem Ma. Bring sunglasses. Bring your boat shoes. For full schedule of events, go to the Salem Maritime National Historic Site website.