You don't have to be a member to join the fun for Healthy Kids Day on April 25th, states Kevin Washington president and CEO of YMCA of the USA. It's all part of the Y's commitment of outreach to the communities served and the children that live there. The seven branches of the YMCA of the North Shore will be among over 1300 Y's across the country taking part in the Healthy Kids Day national initiative to improve the health and well-being of kids.
Events are open to all children and families; they are filled with fun, active play and educational opportunities. For the full scope of Healthy Kids Day, check out this link and the embedded video.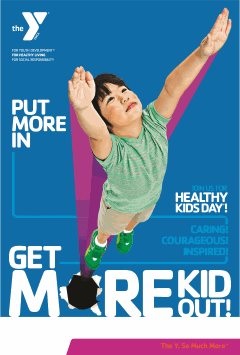 In other words get your kids and yourself off the couch, away from the TV, computer, video games and mingle with others in a lively atmosphere where running and jumping are healthy alternatives.
In Salem, special events from noon – 2pm will include
Little Ninja Warrior obstacle challenge
Fun Camp Activities
Balloons, Facepainting
Family Membership Raffle and more!
The Y is all about more. The more support, guidance and opportunities it provides community youth…the more amazing qualities they'll get out. The more your kids get out, the more they can achieve growing up. That's why the YMCA provides kids a healthy, caring environment of fun, learning and belonging to help them reach their fullest potential. Reason enough to celebrate Healthy Kids Day — and for you and your children to join in.
The Salem YMCA is located at One Sewall Street. For more info, call 978.740.9622 .