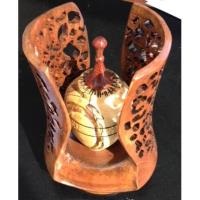 Who are the "best of the best" when it comes to business & community activity over the past year in Salem Ma? The Salem Chamber of Commerce asked residents to select from 36 nominees in six categories. Over 1900 people responded.
Awards were handed out at the 93rd annual Celebrate Salem Awards Dinner, on April 22at the Peabody Essex Museum.
2014 Businesswoman of the Year: Brandi Dion – B&S Fitness Companies & CrossFit IronSpider
Businesswoman of the Year is a Chamber member who has demonstrated excellence in business practices throughout the year and has demonstrated a sincere commitment to Salem.
B&S Fitness Companies' goal is to improve the quality of life and health for every customer through innovative and effective fitness programs. CrossFit IronSpider is a fitness community dedicated to helping everyone achieve their individual goals within an inspiring group setting. In addition to fitness programs, B&S offers event management which raises and donates over $50k each year to non-profit organizations.
2014 Businessman of the Year: Paul Van Ness – CinemaSalem, Salem Film Fest, The Cabot, Van Ness Creative
Businessman of the Year is a Chamber member who has demonstrated excellence in business practices throughout the year and has demonstrated a sincere commitment to Salem.
CinemaSalem is more than a film-lover's movie theater; it's also a café, an art gallery, an art house, a live music venue, and a home Salem Film Fest, one of America's largest all-documentary film festivals. Van Ness and a group of investors recently acquired The Cabot in Beverly, MA. Van Ness Creative is a full-service film and video production company
2014 New Business of the Year: The Ugly Mug Diner
The New Business of the Year award is given to the best new business that opened in 2014.
The Ugly Mug Diner is a twisted American Diner in the heart of Salem. A foodie haven, serving beer, bacon and espresso, with a soda jerk, hand cut fries, and biscuits with red gravy.
The 2014 Excellence in Retail Award: Milk & Honey Green Grocer
The Excellence in Retail Award showcases the outstanding achievements of Salem retailers and will be awarded to the retailer that applies superior knowledge, creativity and industry know-how to develop innovative strategies, and contributes to the growth of the Salem retail sector.
Milk & Honey Green Grocer is the local grocery store for people who care about the environment, community, and sustainability. Offering residents of the North Shore carefully selected products of the highest quality.
The 2014 Community Service Award: Creative Salem
The Community Service Award is awarded to a member or organization who has an outstanding record of community service and volunteer participation.
Creative Salem celebrates the city of Salem as a hub of creativity, providing contemporary tools for local creative professionals to find and connect with new audiences while encouraging them to apply their skills to help solve challenges facing the community.
The 2014 Long-Term Achievement Award: Jim & Nancy Hurrell (Salem Trolley, Pirate Museum, Witch History Museum, Witch Dungeon)
The Long-Term Achievement Award is given to a business that has achieved 10 or more years of success in the community.
Witch History Museum: The stories of 1692 told through a historically accurate live presentation and tour. Witch Dungeon Museum: An award winning reenactment of the trial of beggar-woman Sarah Good – from the original transcript of 1692. Salem Pirate Museum: The unique and little-known history of New England sea-robbers comes alive at the Pirate Museum. The Salem Trolley provides visitors with a narrated one hour tour and all day shuttle service through beautiful and historic Salem.
This year, winners received an original wood sculpture created by Tommy Gagnon of Boston Woodturning.
For more information on the event or the Salem Chamber please visit www.salem-chamber.org or call 978-744-0004.