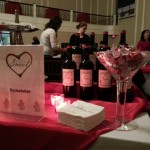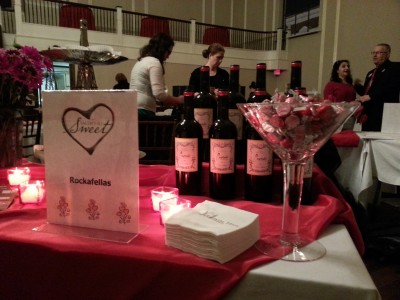 Chocolate, wine and great conversation awaited a capacity crowd at Rockafella's Colonial Hall, Friday evening. It was a successful Salem's So Sweet launch party for the 12th Annual Chocolate & Ice Sculpture Festival.
Kylie Sullivan, Manager of Salem Main Streets reported that "The room was absolutely bursting at the seams with good food and drink; you could see, taste, and smell delights from crepes filled with chocolate & strawberries to shrimp poached in chocolate stout, accompanied by everything from chocolate chai to pinot noir to honey mead."
She added "Salem's So Sweet really highlights how strong the Salem food scene has become."
Salem Main Streets would also like to thank all the participating businesses:
62 Restaurant & Wine Bar, Artemisia Botanical, Caffé Graziani , Captain Dusty's Ice Cream, Capt.'s Waterfront Bar & Grill, Finz Seafood & Grill, Flying Saucer Pizza Company.
Grapevine Restaurant, Gulu-Gulu Café, Harbor Sweets, Melita Fiore, Pamplemousse, Rockafellas, Salem Beer Works.
Salem Waterfront Hotel & Marina, Turtle Alley Chocolates, Victoria Station & Vic's Boathouse , Village Tavern Grill and Oyster Bar, We All Scream Ice Scream Co., Ye Olde Pepper Co.
And a special thanks to our hosts, Colonial Hall at Rockafellas!
Salem Main Streets and the Salem Chamber of Commerce, along with local retailers, restaurants and businesses also invite you to attend events within Salem leading up to Valentine's Day.
This year there will be more than 14 large ice sculptures, chocolate samplings and great discounts around downtown Salem the weekend of February 8-9, with some continuing until February 16th in celebration of Valentine's Day!
The beautiful ice sculptures will grace downtown Salem starting February 8, with themes including a seahorse, a rubber ducky, a sailboat, a film projector, and more!
Many downtown businesses will offer discounts and special offerings during the festival. With over 60 places in which to dine, downtown Salem is the perfect place to have a romantic dinner or casual lunch.
Highlights for this weekend:
Salem Trolley from 12 to 4, will leave on the hour and half-hour, $1 / person;
Chocolate fountain at Maria's Sweet Somethings;
Make your own Valentine's at Mud Puddle Toys – 12 to 3pm;
Chocolate tea samplings a Artemisia Botanicals 11am to 6pm;
Pamplemousse – Wine and chocolate tasting Saturday 2 to 4pm, mead tasting Sunday 1 to 3pm;
PEM Shop giving away Harbor Sweets Saturday while supplies last;
Phillips House – 2 for 1 admission all weekend, Love Letters Saturday at 2pm
Once again, Golden Tickets will be available in downtown Salem for a chance to win the Salem's So Sweet Gift Basket. Pick up your Golden Ticket at a participating location and have it validated at participating businesses (no purchase necessary) to enter to win a Salem's So Sweet Gift Basket which features many fine items from area retailers.