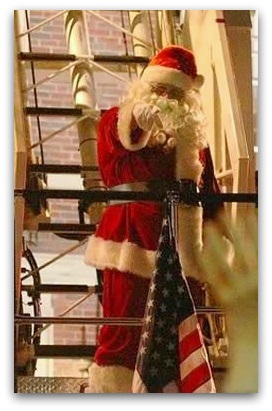 While there have been several sightings of Santa Claus in Salem and surrounding communities, Salem Main Streets has been informed by reliable sources that the jolly old fellow will make a full appearance 6pm tonight— at the Hawthorne Hotel.
In what has become an annual event, Santa will suddenly appear atop the roof of the Hawthorne Hotel. Using their truck ladder, Salem fireman will then help him down to the street where awaiting children (…of all ages…) will engage in cheering, smiling and delighting in his presence.
Santa will stop for cocoa and caroling at the Gazebo on Salem Common before continuing on to the Museum Place Mall; there he will sit for autographs and pictures.
Salem Main Streets would like to thank the Salem Fire Department, the Hawthorne Hotel, Salem Common Neighborhood Association, YMCA, Arbella Drum & Bugle Corps, 62 Restaurant & Wine Bar, Museum Place Mall, Brian Donnelly, and Salem's Vintage Photography for their participation in this special event.
The Hawthorne Hotel is located at 18 Washington Square, Salem, MA