Ho Ho Ho! Had you been part of the crowd we had at the Hawthorne on Friday night, you would have been shouting that along with the bright-eyed kids anticipating the arrival of Santa Claus.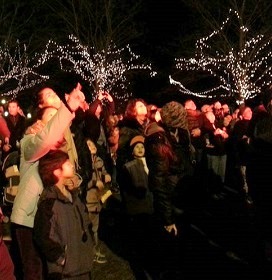 It was a great evening and we thank the moms and dads who brought their children out.
We also want to thank all the people and organizations that helped to publicize and share the news about this event so residents and neighbors could participate. There were blogs, Tweets and Facebook postings.
And we especially need to thank all those who participated in this special event: The Hawthorne Hotel, Salem Common Neighborhood Association, 62 Restaurant, Salem YMCA, Arbella Drum & Bugle Corps, Singers in Common, Brian Donnelly, the Museum Place Mall, Salem's Vintage Photography, Witch Tees, Bewitched in Salem, Glass and Etc., and the Paul Madore Chorale – not to mention the City of Salem and our incredible Fire Department!
For those of you who could not make it there: the Vine video below (thank you Salem News & Hawthorne Hotel).