What did you do on the way to work yesterday? I took a live, guided, interactive tour of the Taj Mahal, followed by a walk through the streets of Dublin. All courtesy of an amazing new piece of social media technology called Periscope. And (weather permitting) you have the opportunity to see it in action as Salem Main Streets will be joining @SalemAMB in live streaming from the Farmers' Market at approx. 5pm on Thursday.
Periscope, simply put, is a video of something going on, but it is live. And you the viewer can ask the film-maker questions in real time. It's just like being there.
In the words of the developers, it was an idea of "discovering the world through someone else's eyes. What if you could see through the eyes of a protester in Ukraine? Or watch the sunrise from a hot air balloon in Cappadocia? It may sound crazy, but we wanted to build the closest thing to teleportation."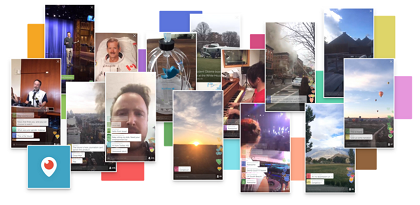 Periscope is available on iOS and Android devices. As it is owned by Twitter, announcements of live 'scopes' are issued on Twitter to all followers of that accompanying Periscope account. (You can also watch on your computer but there is no interactivity interface. Just copy/paste the link that appears in the Twitter promo).
By optimizing the Farmers' Market for the initial broadcast, we are giving viewers in Salem, the North Shore — and anywhere in the world — the opportunity to ask vendors questions as we pass their tables.
Yes, indeed it is promotion for how great we feel the Salem Farmers' Market is. But it will be enhanced by the interaction. Consider as we pass tomato baskets and someone from Ireland asks a question about which kinds of tomatoes are best with salad. Or someone in Los Angeles later remarks about the unusual aspect of lobsters at a Farmers' Market.
If time permits, plans call for a second broadcast later in the evening of the PEM/PM party. We are strong supporters of the creative ways people express themselves in Salem through food, literature, art, music, etc. Periscope will be a way of not only "telling" people about it, but showing & interacting with them. What better way to display the community focus of the Peabody Essex Museum?
If you wish to see selected Periscopes (and we advise you while many are interesting, some are like a personal / vanity / diary / blog, and there are a few which are downright strange) go to http://onperiscope.com/ Only live 'scopes' can be played.
There is no charge to download the Periscope app (here is an excellent tutorial) if you wish to follow us on our journey of promoting all things Salem to the world. To participate in Thursday's pilot efforts, either follow @SalemAMB on Twitter for a direct link notification, or open the Periscope app and click on the "Map" or "List" options and scroll down looking for titles that refer to the Salem Farmers' Market or PEM/PM.
(Source of image is from medium.com/@periscope)