Bargains will fill the shelves, counters and floors of stores this weekend as Heritage Days closes out the weekend with the Essex Street Fair, and Pickering Wharf presents the next installment of First Friday.
First Friday is a stand-alone monthly activity by the good folks at Pickering Wharf, but this month it happens to fall during Heritage Days, so why not make it part of your Heritage Days celebration when you're in town that day?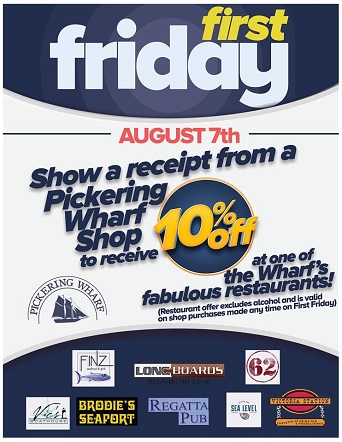 You will most definitely Shop, Dine and Unwind at Pickering Wharf where you will find exclusive specials, events and treats from over 20 unique shops and six fabulous restaurants.
First Friday festivities begin at 5pm with most stores remaining open until 9pm.
Participating restaurants will offer, at a minimum, 10% off  with a receipt from a Pickering Wharf shop, as well as in-house specials. Some merchants will also have entertainment, refreshments, and some give-aways.
Bargains & free "stuff" make First Fridays at Pickering Wharf a must see event.
Then over the weekend, more than 50 vendors will participate in the Heritage Days festivities at the Salem Chamber of Commerce Essex Street Fair. The Essex Street Fair is an annual two-day event; this year it is to be held on August 8 & 9, 2015 from 10am – 6pm.
Along the Essex Street Pedestrian Mall artisans, craftors, and food vendors from in and around Salem join local merchants to sell their merchandise along the length of Essex St., from the Daniel Low Building to the Hawthorne Hotel.
Bring your friends and family to this street festival to browse through jewelry, crafts, paintings, and other unique items! Face painters and musicians will be strolling around to entertain the crowd.
For more information regarding the Essex Street Fair, contact the Salem Chamber of Commerce at 978-744-0004.