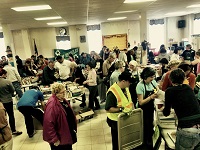 Simple question. Complex answer. Do they come for the witches and magic and monsters and such? Or is it "much, much more" as has been put forth by others (like in these star-studded video shorts)?
One strong possibility (at least from the looks of our blog entries) is the literary aspect. Everybody knows about Salem's Nathaniel Hawthorne and House of Seven Gables  connection. But in the last week or so, we've written blogs about Salem's relationship with:
1- Edgar Allan Poe. It appears that "A Tell-Tale Heart" might have been based on the grisly murder of Capt. Joseph White in 1830 Salem. And in the midst of our Haunted Halloween Happenings next month there will be interactive events fostered by The Scarlet Letter Press & Gallery to honor Mr. Poe.
2- Charles Dickens. Dickens scholars from around the world, as well as local & international performers, historians and artists have been invited to attend Pickwickian Endeavors, a weekend long conference Sept. 26-28 to held at the Salem Athenaeum and other city spots. This conference is scheduled to feature over 20 presenters and performers. All topics Dickens will be up for discussion.
3- Banned Books. Banned Books Week, has been taking place all week at Wicked Good Books, ending Sept. 27th. According to the American Library Association (ALA) "Banned Books Week brings together the entire book community –- librarians, booksellers, publishers, journalists, teachers, and readers of all types –- in shared support of the freedom to seek and to express ideas, even those some consider unorthodox or unpopular."
4- Book Swap. What can you do with a book? Read it, of course. And then? Use it as a paperweight. Or use two as bookends. The city of Salem offered a more community-minded suggestion recently with a Free Book & Media Swap
And also worthy of note is November's upcoming Salem Literary Festival.
Proof enough that you can't judge the Salem book just by its cover.