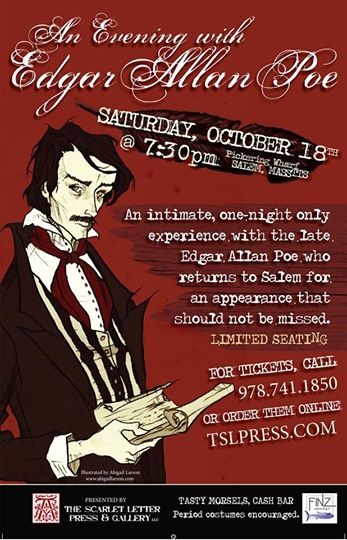 While Nathaniel Hawthorne's writings were well known to be tied to Salem, literary contemporary Edgar Allan Poe also had a connection. It appears that "A Tell-Tale Heart" might have been based on the grisly murder of Capt. Joseph White in 1830 Salem. And in the midst of our Haunted Halloween Happenings next month there will be interactive events fostered by The Scarlet Letter Press & Gallery  to honor Mr. Poe.
The first is "Spirits of the Dead" an art show "inspired" by Edgar Allan Poe. The store is seeking Poe-inspired artwork for a Sept. 27 – Nov. 2 gallery show. Deadline for submissions is Sept. 12th.
The gallery at The Scarlet Letter Press will be transformed into a somber state of decay as the worn pages of Edgar Allan Poe's grim stories are represented in visual artwork. A month-long show featuring artists from around the United States will hang in honor of the late horror master. All artwork is for sale including original paintings, assemblage, jewelry, prints, candles, postcards and much more. The ensemble "1476" has written and produced an original score for the art show which will also be available for sale.
According to the Facebook page "We have accepted a lot of 2D artwork, but would love to see items that are 3D, i.e. jewelry, vintage items, books, clothing, etc."
The Scarlet Letter Press is also participating in a national month of recognition to support the city of Boston's installation of its life-sized Poe bronze on Oct. 5th. The Edgar Allan Poe Foundation of Boston had sought to honor Poe in the city where he was born on January 19, 1809.
 The installation will be in Poe Square (intersection of Boylston Street and Charles Street South) which was dedicated to the author in 2009.
The store suggests you might absorb some inspiration from the sculpture by Stefanie Rocknak at www.bostonpoe.org.
But to mis-quote the Raven– there is more. There will be an intimate, one-night only experience Oct. 18th from 7:30 – 9:30 pm at Finz restaurant, with the dearly departed Edgar Allan Poe who returns to Salem for an appearance that should not be missed. Amongst macabre music and exquisite morsels and your choice of tantalizing cocktails, Mr. Poe performs dramatic readings of "The Raven" and the earlier mentioned "A Tell-Tale Heart."
He will also discuss his life and the lasting impact of his work with audience interaction. Each guest receives an exclusive item commemorating the experience. And—- period costumes are welcome!
Another guest speaker, Victoria Price had been planned for Oct. 20th, but details have not been finalized at this point in the schedule.
Tickets will most likely sell quickly, for more information on any of these events, contact The Scarlet Letter Press at 978 -741-1850.