Bicyclists may outnumber pedestrians and motorists in Salem Ma this Thursday from 6-9pm as the Peabody Essex Museum presents Free Wheeling: Bike Night as the next entry in the PEM/PM monthly evening party series.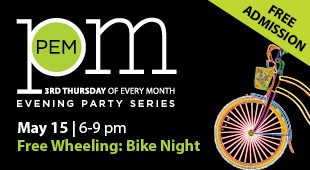 Bike enthusiasts will mingle & network as they celebrate the art, design and style of the bicycle with music, art making, food, cocktails and conversation. These are the staples of PEM evening series.
And for this particular night, The Peabody also encourages B.Y.O.B. — bring your own bike!
According to the 2012 National Survey of Pedestrian and Bicyclist Attitudes and Behaviors, 18 percent of the population age 16 or older, rode a bicycle at least once during the summer of 2012. The same survey also reported the average length of a bicycling trip taken on a typical day during the summer was 65.2 minutes.
We bring this up because with temperatures rising, more people will be hitting the road on their own or as part of a bike club. This PEM experience will give them the opportunity to "see decked out art bikes, meet folks from the area's bike scene, help create an interactive biking map and add a little bling to your own two wheels."
Featured PEM/PM guests include:
Bikes Not Bombs — Based in Jamaica Plain, this organization shares how to use the bicycle as a vehicle for social change.
SCUL — A bike chopper gang based out of Somerville brings sculpted cycle masterpieces and tall bikes to Salem. The group has appeared on the PBS show Design Squad.
Salem Bike Path Committee — Members share their favorite bike routes and information about Salem Spins, a bike share program.
Forrest James — an American dreamwave recording artist, producer, composer and DJ provides live music.
Local bike shops demonstrate how to fix a flat and provide safety tips.
Cash bar and a special small plates menu from the Hawthorne Hotel will be available for purchase. This month's PEM/PM is sponsored by MINI of Greater Boston. For more information, visit www.pem.org.