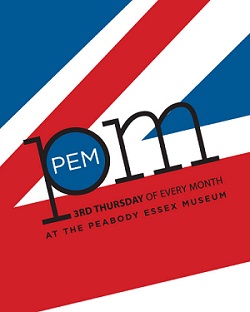 Drinking is on tap at the Peabody Essex Museum this Thursday night as the next edition of PEM/PM takes place from 6-9pm. Drinking in terms of British beer tasting and drinking in the art of celebrated British artist J.M.W. Turner.
We are quite lucky here in Salem, having not only a quality museum in town, but also a very creative one that makes every effort to be accommodating to the community in the ways it approaches self-promotion.
To do this, every month the PEM has a party series, staying open into the night to shine a spotlight on a particular exhibit. This month: J.M.W. Turner, the British artist celebrated in Turner & the Sea, a new exhibition of more than 100 paintings on view this summer. The evening will feature gallery talks, The Jovial Crew singing folk songs of the sea and shore, a British beer tasting in the Asian Garden, the opportunity to play darts and other pub games and an art-making activity to decorate your own coaster.
Other refreshments will consist of a Cash Bar, with special small plates menu from the Hawthorne Hotel.
In the midst of this swirl of activity, guests will have the opportunity to explore the works of Turner who was one of the most original painters of landscapes and seascapes in Europe.
"Turner lived in one of the world's most powerful nations at the water's edge for much of his life, at the very peak of British sea power. As any great artist will do, he embraced the atmosphere of his time and presented it through his work. Turner's talent was such that he went a step further and also redefined marine painting, and perhaps all painting, forever," said Daniel Finamore, PEM's Russell W. Knight Curator of Maritime Art and History.
Dramatic, contemplative, dangerous and beautiful, the sea was the perfect subject to showcase the singular talents of Turner.
Guests will see iconic works spanning the artist's career from his transformative Academy paintings of the late 1790s and early 1800s to the unfinished, experimental seascapes produced toward the end of his life. Paintings by European and American masters — such as Constable, Whistler and Sargent — illuminate how Turner influenced generations of artists.
Admission is free of charge to PEM members and Salem residents (with ID); Nonmembers $10 at the door. For more info call 866‐745‐1876 or visit their Web site at www.pem.org.