We just tweeted a silly little item, and then thought more about it.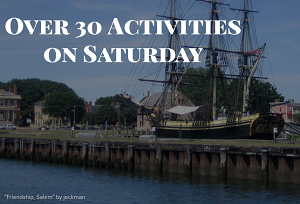 Where do you take a #FirstDate to impress him/her? Salem MA. Just look at what is happening all day Saturday http://ow.ly/RdxnU @DestSalem
Salem MA really is a great place for a first date (and 2nd, and 3rd, etc).
There are over 30 activities and events listed on the Destination Salem Calendar alone for Saturday, 8/22/15. Over 30 just for Saturday!!!
That is important, because according to a number of websites, keeping busy and keeping the conversation going to build trust and familiarity are important on a first date.
Only 24% of people (surveyed at topdatingtips.com) said that they trust someone they're out with on a first date! Communication and learning about the other person can ease anxieties.
What about the simple dinner and a movie? Prevailing thought is that the idea is not only unoriginal, it can get pretty expensive these days, be stressful and uncomfortable for both sides, especially in a fancy restaurant; then you go to a movie and don't interact because you don't know the other person's "movie viewing" habits (do they like to chat during the film, make one-liners, focus strictly on the movie, etc).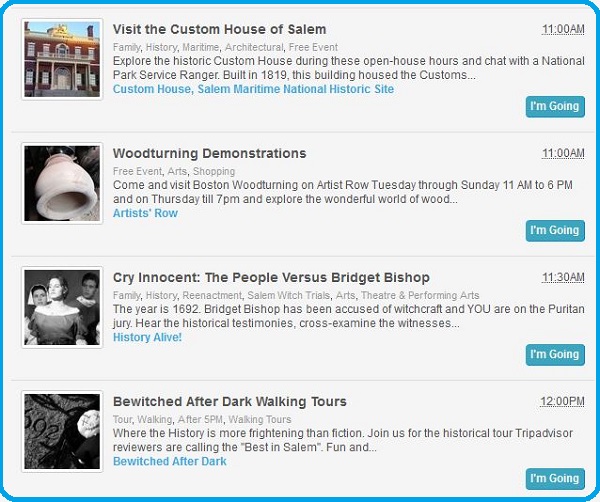 According to the Art of Charm website:
"Instead of just taking the woman out to dinner, take her on an activity date. Ease the pressure of having to maintain constant stimulating conversation by doing something fun. That way you can shift your focus to an outside activity and let conversation arise more naturally."
That applies to whether your date is female or male.
And that brings us back to Salem MA and over 30 things to do on Saturday August 22, 2015 (see the snippet above). Let Salem MA be your wing man.
Oh and what if the first date is on Sunday? There are just as many activities. We are here for you!