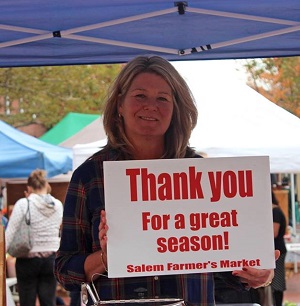 Final Farmers' Market of 2016 season is Thursday, Oct. 13th, 3-7pm at Derby Square! Wow. Seems like only yesterday we were looking at applications, seeing who was returning, and who we could add to uphold our reputation as one of the liveliest and most diverse farmers' markets in the area.
Derby Square is such a perfect spot as a backdrop for the vendors and their produce. It is wide. It can be entered from practically any side. The steps lend themselves to being look out points to "see it all" from one spot, or they can be extra seating to watch balloon makers or performers singing.
One more shot at bringing home the freshest of the fresh produce local and regional farmers transport to our tables. One more chance to interact with the farmers.
But don't worry, it's not goodbye forever – Salem Main Streets is pleased to announce the return of the Salem Winter Market!  A seasonal extension of the Salem Farmers' Market, this year's Salem Winter Market will take place on Saturday, November 19th and Saturday, December 17th, both from 1 pm to 5 pm in the Museum Place Mall.  Save the dates and follow us online for more information about vendors and products, to be released in November.
The Salem Farmers' Market and Salem Winter Market are both made possible through the leadership of Salem Main Streets and the Farmers' Market Committee, as well as the generous contributions of numerous volunteers.  To get the latest updates about the farmers' market, visit our website at www.salemfarmersmarket.org, or follow us on Facebook (www.facebook.com/SalemMAFarmersMarket) or Twitter (@salemfarmersmarket).