Remember Pokemon from your childhood? Or perhaps you are actively involved with some form of anime now? The videos and card games are still going strong. As is a much more grown-up and tightly written anime called Attack on Titan. Both of those as well as three other forms of anime will each have a day of exposure during the Flying Saucer Pizza Company special Anime Week, Aug. 24-28.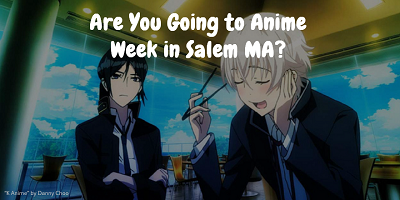 Explains Nicole Spirito, General Manager of Flying Saucer, "This is the first EVER Anime Week at Flying Saucer in our three years of being in business.  We are well known for our creative intertwining of delicious pizza and good nerdy fun, and I decided that it was time for the anime/manga crowd to have a fun week just for them!"
Harrison's Comics & Pop Culture in Salem is co-sponsoring the week long event and is supplying raffle prizes. It also holds Pokemon sessions & tournaments on Sunday afternoons.
She adds, "Harrison's Comics has always been a loyal friend and partner with us as business owners in Salem, and we saw this as the perfect opportunity to have our worlds collide, so to speak. Many of our staff and customers are avid anime enthusiasts, and we all enjoyed collaborating on ideas to make this week fantastic."
The night returns some fan pizza favorites, including the BULBASAUR and VEGETA – as well as introducing some lively cocktails. You are invited to wear your finest merch to receive some "awesome" Saucer freebies.
For those of you that don't know about this art form, the word anime is a shortened version of animēshon and can be characterized by colorful graphics, vibrant characters and fantastical themes.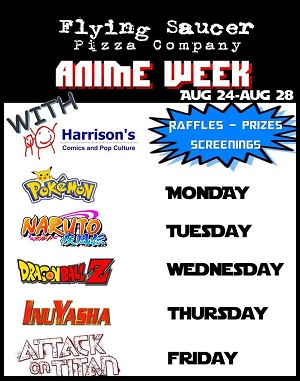 According to Wikipedia, "The earliest commercial Japanese animation dates to 1917, and production of anime works in Japan has since continued to increase steadily. The characteristic anime art style emerged in the 1960s with the works of Osamu Tezuka and spread internationally in the late twentieth century, developing a large domestic and international audience. Anime is distributed theatrically, by television broadcasts, directly to home media, and over the internet. It is classified into numerous genres targeting diverse broad and niche audiences."
In other words, anime is everywhere and enjoyed by males & females of all ages and nationalities.
The schedule (at posting time):
Monday – Pokemon
Tuesday – Naruto
Wednesday – Dragon Ball Z with a special screening of Resurrection F at 8pm
Thursday – Inuyasha
Friday – Attack on Titan with a late night screening from 11pm-1am
And, don't forget, adds Nicole, "We'll be raffling off killer memorabilia provided by Harrison's Comics each night!"
Flying Saucer is located at 118 Washington St, in Salem MA. And Harrison's is across the street from Flying Saucer at 252 Essex Street.