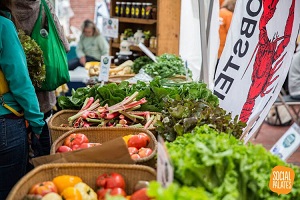 When you walk across Derby Square on Thursdays from 3-7pm you think you are at the local Salem Ma Farmers' Market. And you are. But you are also participating in a shared national experience. To that end, U.S. Secretary of Agriculture Sonny Perdue has proclaimed Aug. 6-12 to be National Farmers' Market Week
This is the 18th year in which the United States Department of Agriculture has put its stamp of approval on Farmers' Markets; it has supported local producers by encouraging families to meet, and buy from, the farmers and other vendors at their local Farmers' Market.
The proclamation points out that Farmers' Markets and other agricultural direct marketing outlets contribute approximately $9 billion each year to the U.S. economy and "serve as significant outlets by which small-to-medium, new and beginning, and veteran agricultural producers market agricultural products, generating revenue that supports the sustainability of family farms and the revitalization of rural communities nationwide."
There will be accompanying celebrations as thousands of U.S. Farmers' Markets will highlight the range of produce, fruit, meat, dairy and specialty products available from their local and regional farmers.
As we have said in previous blogs, buying directly from farmers and ag-entrepreneurs has a significant regional impact by helping to diversify farm incomes while at same time supporting neighborhood businesses by keeping more money in the local economy.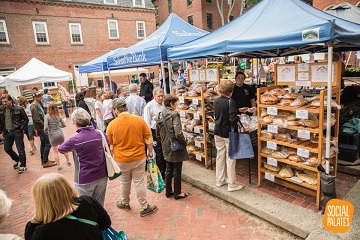 In addition to being good for the farmers and convenient for consumers, Farmers' Markets prove every week to be a gathering place that helps build a sense of community.
When you walk across Derby Sq. this Thursday at the Salem Farmers' Market, besides looking at the fruit, veggies, breads, lobster, etc. also look at the people. You and they are enjoying the afternoon doing the same thing that other people are doing across the USA: having fun, looking for bargains, buying healthy food alternatives, and talking to each other.