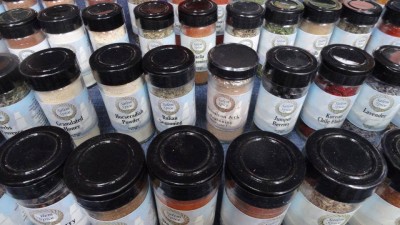 Thanksgiving/Thanksgivukkah is just over a week away!  Whatever your family celebrates on the fourth Thursday of November, chances are you'd prefer to beat the holiday crush at the grocery store.  Thankfully (see what I did there?), the Salem Winter Market has you covered.   Here are a few ideas for what you can purchase at this week's Winter Market that will help you out next Thursday.
Starters
– Charcuterie – Piper Ranch has some of the best sausage/salami/chorizo around.  Grab a few links and slice them up to serve with crackers and cheese.
– Bruschetta with Ricotta, Honey, and Lemon Zest – Even fresh ricotta will generally keep for a week so long as you don't open it, so you just have to resist snacking on Wolf Meadow Farm's ricotta until you're ready to use it.  Several of our vendors carry local honey.
– Leek Fritters – equally good as a snack or a side, you can make this with leeks and/or other fall vegetables from one of our produce vendors.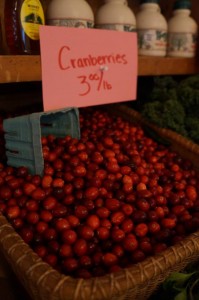 Sides
– Cranberry Sauce – it's hard to imagine Thanksgiving without it, and several of our vendors carry fresh cranberries.  We're fond of this recipe for Brandied Cranberry Sauce – it doesn't need overnight to set like some cranberry sauce recipes, but it will taste even better if you make it in advance.
– Stuffing – think how much better your bread-based stuffing would taste with some of Great Cape Baking Company's Rosemary Bread!
– Roasted or Pureed Parsnips – we're huge fans of the Smitten Kitchen Cookbook's parsnip puree (with or without horseradish) if you need a break from mashed potatoes this year.
– Buttery Braised Leeks – easy-peasy, don't forget the lemon squeeze.
Sweets
– Pumpkin Pie…with squash!
– Whatever baked goodies you're planning, we know you'll want to visit the Salem Spice table for cinnamon and other seasonal spices (and maybe check out the selection of rubs to find a new way to spice up your turkey).
More Fun
– The Morning Of – Don't forget to feed yourself before you start cooking (rookie mistake!).  Stick some of Big Sky Bakery's fantastic bagels in the freezer this week and they'll be there to keep you going next week.
– Want to get Aunt Margie a special "thank you" for hosting?  Visit the Salem Soapworks corner for a range of sumptuous soaps, lotions, and gift baskets.
– Need a Hanukkah present for Aunt Mindy?  Our friends at Shine Jewelry always have a beautiful selection of hand-crafted jewelry available for a one-of-a-kind gift.
– The Day After – Tired of cooking?  Tired of turkey?  So tired all you can manage is boiling a pot of water?  Mandy's Wicked Chowdah comes in freezable packets, perfect for two people – just defrost the packet in a pot of boiling water.  Or get some of Organico Valicenti's fresh pasta and a jar of Red or Golden Gravy.  Enjoy a healthy, hearty meal in 15 minutes.
See you this Thursday at Old Town Hall, 3 pm to 6 pm!