Volunteering is the ultimate exercise in democracy. You vote in elections once a year, but when you volunteer, you vote every day about the kind of community you want to live in. (Marjorie Moore, Minds Eye Information Service, Belleville, IL, USA
Contributions made by area volunteers at various Salem sites were spotlighted recently at a Volunteer Appreciation Party held at the National Park Service Visitor Center.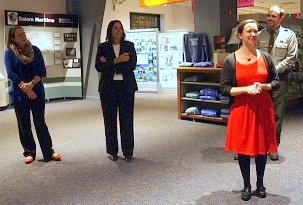 Salem Main Streets partnered with the City of Salem, National Park Service, and Destination Salem to honor the over 100 wonderful volunteers from the October Information Booth, the "Shutdown Booth" and the Salem Farmers' Market. Speakers at the event included (pictured) Kate Fox of Destination Salem, Salem Mayor Kimberley Driscoll, Kylie Sullivan of Salem Main Streets and Jonathan Parker of the National Park Service. (photo by Karen Scalia)

Besides "thank you's" being handed out, we also had a number of "fun facts" to share that night.
The Salem Farmers' Market served over 37,000 shoppers, the Shutdown Booth helped over 13,000 people, and our own Info Booth responded to multiple questions posed by more than 25,000 visitors.
Being a volunteer is a win-win-win situation here in Salem. You are helping your community. You are helping people from outside the community better understand Salem. And you are making yourself feel good about sharing your spare time.
And as a further thank you, local restaurants generously donated fantastic food for the event, creating quite the spread! Donating restaurants included Adriatic Restaurant & Bar, Caffe Graziani, Capt's Waterfront Grill & Pub, Finz, Flying Saucer Pizza Company, Gulu-Gulu Cafe, Life Alive, Opus, Salem Waterfront Hotel, Village Tavern, and Victoria's Station.
Don't ever question the value of volunteers. Noah's Ark was built by volunteers; the Titanic was built by professionals. (Dave Gynn, Coleman Professional Services, Ohio, USA )