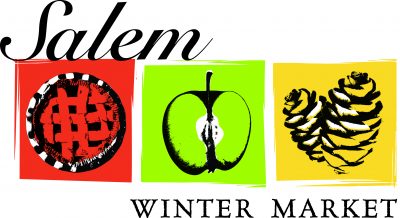 How many more people are suddenly coming for Thanksgiving dinner? Don't panic. You can still serve them all, and with the freshest of items, because the Salem Winter Market returns this Saturday, Nov. 19th (and again on Dec. 17) with the best of the season goodies from area farmers and vendors.
A seasonal extension of the Salem Farmers' Market, this year's Salem Winter Market will take place on Saturday, Nov. 19th and Saturday, December 17th­, both from 1 pm to 5 pm. The indoor market this year will take place inside the Museum Place Mall (1 Church Street).
You will wander through the Museum Place Mall to touch, smell, and feel locally grown & made items— and interact with the vendors themselves.
"How did you grow this?"
"What did you use to make this look like that?"
"How do I cook this to get the most taste out of it?"
That is what a Market is all about. You talk direct to the "manufacturer" with no middle man. No trucking company. No sales clerk. Direct and fresh.
"We are also very excited to showcase our vendors in the Museum Place Mall this year, where we can complement and highlight the variety of great year-round tenants in the mall," says Kylie Sullivan, director of Salem Main Streets. "I think a lot of our residents underestimate the great range of retail, restaurants, services, and attractions that are in the Mall right now. There's something to do and see every day of the week here!"
And who are the vendors at this year's Salem Winter Market?
FARMS
Gibney Gardens (Nov only)
Grant Family Farm
Honey Pot Farm
Long Hill Orchard
Maitland Mountain Farm
SEAFOOD
TEAS, HERBS, SPICES
Hannah's Herbals
Salem Spice
SWEETS
Bella and Harvey
Grammy's Bakery
WINES & HARD CIDERS
JEWELRY & CRAFTS
Aerophytes
Heritage Handmade/Shine Jewelry
PREPARED FOODS
All Fruit Inc
Beckah's Bangin' Butter
K's Kitch'n
Popped Gourmet Popcorn
BED, BATH & HOME PRODUCTS
PASTA
Mark your calendar for the Salem Winter Market, Saturday Nov. 19th at the Museum Place Mall, 2 E India Square Mall, Salem MA.Then bring a big bag or box. You will need it!