Did Saturday's events for Heritage Days make you feel like an audience member at a 3-ring circus? Actually, we hope you were more an active participant than a passive observer. Because — there is more today!
For example, new this year, the City of Salem and the Salem Moose Family Center will join forces to combine today's (August 2nd ) "Tour-a-Truck" event with "Public Safety Day" which usually happens in September. Along with all of the kids' big truck favorites, there will be music and many new things to do and see, 10am – noon at Salem Willows. The Ladies of the Moose will also be donating 50 bike helmets to be fitted by the Salem Police Department (on a first come first serve basis, so get there early!).

As mentioned in our previous blog, blending the past, present and future, our Heritage Days celebration spans a week (Aug. 1-9) with events featuring food, fun, and activities for all ages. There are nearly 40 different events throughout the festival, some on different days, some at the same time. FYI: you really do need to keep the URL of the Calendar of Events for Heritage Days bookmarked on your home computer, tablet or cell phone.
Another city might hold a one or two day celebration of its history, but not Salem. We give it a week!
Mayor Kimberly Driscoll stated, "Another week of fun filled activities are in store for this annual tradition. I want to thank all the event managers that have worked so hard to bring almost 40 different activities to choose from during Heritage Days this year."
Sunday begins with the "Bridge & Back 10K Road Race" at 8am. And that is what it is. Runners depart from the corner of Washington & New Derby Streets, Salem, cross the Salem/Beverly Bridge to Beverly and then back to Salem. The Race is sponsored by the Tavern in the Square and all proceeds go to the Boys & girls Club of Greater Salem. For more details, go to www.salemroadraces.com.
And from noon- 8pm the Salem Willows Shell will once again play host to Bridgin G.A.P.S. concert with performances ranging from local and non-local recording artists, live bands, dance groups, poets and others. Plus there will be guest speakers from various non-profit and charitable organizations.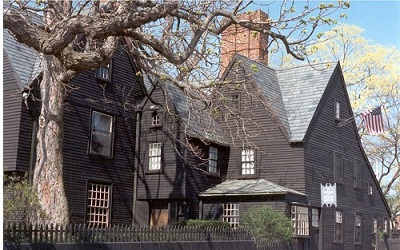 Relive elements of Salem's rich heritage at the House of Seven Gables in the Living History Lab (10:30am – 1pm and 2 – 4pm). You can actually experiment with history by way of hands-on activities (as examples, 18th century handwriting or 17th century food preparation). For specifics go to www.7gables.org.
Additionally, for our residents, Salem is the perfect place for your STAY-CATION.  Spend a day being a tourist and take advantage of the generosity of our tourist related business community. Many are free to Salem residents all year long, such as the Peabody Essex Museum, the Salem Witch Museum, the Salem Trolley (June-September), and the a fore-mentioned House of the Seven Gables.
The Witch House will be free to Salem residents during Heritage week. The Salem Ferry always has discounts for residents and during Heritage Days the Sea Shuttle, Mahi Mahi Cruises and the Schooner Fame are offering discounts for residents.
As part of the celebration, the City of Salem will also double the merchant one-hour validation stamps at both garages, so you can spend a little bit longer enjoying downtown (some restrictions do apply).
As stated in the headline, Heritage Days is a variety show— and we've only told you about the 1st & 2nd days thus far! More in upcoming blogs, and don't forget to bookmark the calendar URL.