Blending the past, present and future, our Heritage Days celebration spans Aug. 1-9 with events featuring food, fun, and activities for all ages. There are nearly 40 different events throughout the festival, some on different days, some at the same time. You really do need to keep the URL of the Calendar of Events for Heritage Days bookmarked on your home computer, tablet or cell phone.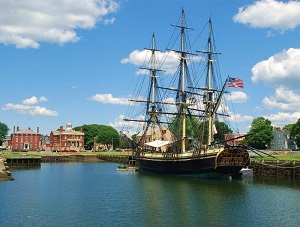 There is no better example to prove this point than the kick-off event: The 2015 Salem Maritime Festival will be held on the historic wharves at Salem Maritime National Historic Site, Saturday, August 1st from 10am – 4pm.
In its 27th year, the Salem Maritime Festival offers an exciting array of free family fun, including live music, free harbor cruises, craft demonstrations, costumed re-enactors and much more! Kids will enjoy a variety of fun activities including radio-controlled boats, a "Muck Walk" and touch tanks with their favorite marine critters.
A flotilla of visiting vessels including a U.S. Coast Guard 47′ Motor Life Boat, the Schooner Fame, the Schooner Ardelle and the motorized vessel Endeavor will all be participating in the festival. A fleet of kayaks from Salem Kayak will provide attendees with the opportunity to paddle and row Salem Harbor. Friendship of Salem, Salem's own replica of a 1797 merchant vessel, will be open to the public and will offer a National Park Service Junior Ranger Program for children.
Free 90-minute harbor cruises aboard Fame, Ardelle and Endeavor will be offered throughout the afternoon by lottery. The cruises are scheduled for 12:00, 12:15, 12:30, 1:45, 2:00, 2:15pm.
Exhibitors and demonstrators at this year's event include:
Salem Kayaks
Norumbega Canoe Club
USS Constitution & US Navy
Marlinspike Sailor of Marblehead
Musician Larry Young
R.P Raiseles Cooperage
Essex Shipbuilding Museum
Marine Modelers Club of New England
Salem Sound Coastwatch
Historic New England
Cat Cove Marine Labs
Division of Marine Fisheries
U.S. Coast Guard & U.S. Coast Guard Auxiliary
Peabody Essex Museum
House of the Seven Gables
Witch House / Corwin House
Salem Beautification Committee
Salem Zouaves
Shipwrecks of New England
And more…
Recall what we wrote at the outset, that at times during the Festival some events would be running concurrently? While the wharf area will witness all things maritime, farther down the road, the Salem Willows will play host to not one, not two, but three other events on Saturday!
A Bridgin G.A.P.S. concert will present performances ranging from local and non-local recording artists, live bands, dance groups, poets and others from noon until 6pm. The Bridgin G.A.P.S. goal is to provide a festive, entertaining and educational platform for the local community to gather and celebrate in a safe and positive environment.
At the same time you can attend The Firemen's Muster  at 12:30 pm where crews will compete to throw the longest stream of water with an antique hand pumped fire engine. Come and see a 19th century sport that is being kept alive in the 21st century by a bunch of historic preservationists who obviously like to get wet!
And Clown Day will be also be happening, Saturday 11am – 3pm where clowns will be on hand all day to make balloon figures for your children, do some creative face painting using your kids as the canvas and then give a special performance at 2:30pm.
As stated in the headline, the Heritage Days Festival is a variety show— and we only told you about the FIRST day. More in upcoming blogs, and don't forget to bookmark the calendar URL.