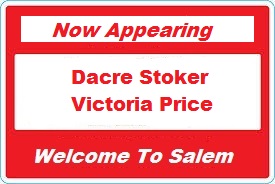 Obviously neither Bram Stoker (creator of the popular Dracula character) nor Vincent Price (celebrated actor in many a macabre movie) can be here. Both have passed on. But descendants are keeping the memories, stories and work alive… and will be sharing with you this month during Haunted Happenings: Dacre Stoker on 10/16 and Victoria Price on 10/20.
Dacre Stoker is the great-grandnephew of Bram Stoker, and himself an author, having written Dracula: The Un-Dead (with Ian Holt) said to be based on handwritten notes of Bram Stoker's for characters and plot threads. He will be in Salem to discuss the Stoker family perspective on all things Dracula as part of a film screening of the award winning documentary Vampires of New England at CinemaSalem, 7pm on Oct. 16.
Canadian by birth and now living in South Carolina, Stoker has been a teacher and an athletics coach (in fact he is a former Pentathlon world champion and coached the Canadian Pentathlon team in Seoul at the 1988 Summer Olympics). And from this clip, you can hear he is also an engaging speaker.
Dacre Stoker – Garlic and Vampires from Historical Haunts on Vimeo.
Called
"The Blood is the Life: A Night of Dracula and New England Vampires"
the event is presented by Historical Haunts LLC and Cinema Salem. Stoker will be available for photos and autographs afterwards.
For more info go to www.histhaunts.com or www.cinemasalem.com.
This month has also been a celebration of another author, Edgar Allan Poe. Of course one could not visit the written works of Poe without the visual memories of the stories as presented by Vincent Price in many movies. Rounding out the celebration of all things Poe will be a special appearance by Victoria Price, the actor's daughter on Oct. 20th.
Price will make herself available in three different areas of Salem:
5:30 pm, a walking tour of Count Orlok's Nightmare Gallery

6 pm, a lecture/talk at the next-door STV studios.

After the lecture ends, Price will meet with participants at The Scarlet Letter Press & Gallery for an evening of wine & words (she will sign autographs).
Victoria has established herself as a lively, popular public speaker (as you will see in the below clip) on topics ranging from the life of her famous father, to interior/industrial design to the role of the art collector in society.
Victoria Price from thesoundofvincentprice.blogspot.com.
Her stories about her dad will charm, entertain and give you insights to the man that we loved to have scare us.
For more info go to The Scarlet Letter Press or The Nightmare Gallery.