Don't miss Salem's sweetest event of the year! Salem Main Streets, the Salem Chamber of Commerce, Destination Salem, and local retailers, restaurants, and businesses invite you to attend the 14th annual Salem's So Sweet Chocolate & Ice Sculpture Festival. A decadent tradition of delectable chocolate, sparkling ice sculptures, and Valentine's Day shopping await you Feb. 5-7th!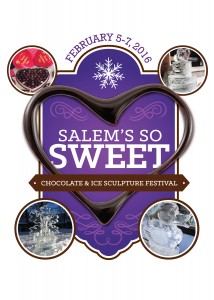 For example, in celebration of the chocolate aspect of the Festival, many of Salem's finest restaurants will feature special chocolate offerings on their menus, including desserts, cocktails, and inventive sauces during the weekend of Feb. 6-7th.
Elsewhere, participating Salem retailers will offer innovative displays and items geared toward chocolate and Valentine's Day, ranging from a chocolate fondue fountain to discounts on jewelry.
"This year," reveals Kylie Sullivan, Executive Director of Salem Main Streets, "we are introducing a new in-store promotion called 'Sweet 10%' – make a full-price purchase at one participating downtown business and get 10% off your purchase at next participating business!"
We also have a record-breaking TWENTY-THREE ice sculptures that will be placed all over the downtown and various entry points on Feb. 6th.
Kylie says, "I'm really excited to see some of our new businesses getting involved (Jolie Tea Company, The Bridge at 211, and TBT Post are just a few examples), the return of some traditional favorites (including a replica of The Friendship down near the water, thanks to the National Park Service), and some businesses thinking way outside the box – Rockafellas is actively working on an ice bar that will be built outside on their patio!"
Be sure to make plans for a special evening stroll on Saturday, Feb. 6th, when sculptures will be temporarily illuminated.
A full list of participating businesses and promotions will be available in brochures distributed around town and online at www.salemmainstreets.org.
When asked why she thought the Festival has had such staying power in the community, Kylie offered, "Quite frankly, there's nothing else like it going on. By the time February rolls around, the "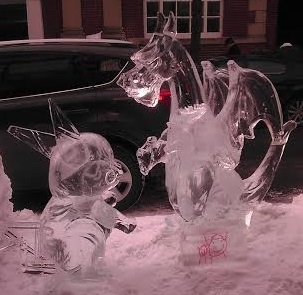 magic" of winter has faded away – this event helps brings that magic back, as the ice sculptures truly transform the downtown. People have recovered from the holidays and they're eager to get outside, walk around, and visit their favorite businesses again. Plus, who can really say no to chocolate?"
But is chocolate beneficial to you? Besides it tasting so good?
Looking across the Internet, we found this description of the redeeming values of chocolate from Hy-Vee, operator of over 230 retail outlets in the Midwest.
"Chocolate contains iron, potassium, fiber and some of our favorite antioxidants, flavonoids. The flavonoids found in chocolate may be able to do things like relax blood vessels and promote healthy circulation, both of which may lead to healthier blood pressure levels. Chocolate also contains polyphenols, antioxidants that protect the body from free radical damage. Of course, the darker the chocolate, the healthier it is. Start with 57% cacao dark chocolate, or even semi-sweet, and work your way up until you find the perfect dark chocolate fit for you."
It's almost as if they were also inviting you to attend the Salem's So Sweet kick-off event, a Chocolate and Wine Tasting, on Friday, Feb. 5th from 6:30 – 8:30 pm, at Colonial Hall at Rockafellas, 227 Essex St., where you can indeed sample all levels of chocolate and find your perfect shade and taste.
This luscious tasting event features wine and chocolate samplings from premier Salem restaurants, stores, and sweet shops. Tickets can now be purchased over the phone by calling 978-744-0004, online at http://salemmainstreets.org/festivals/salem-so-sweet/, or in person at the Salem Chamber of Commerce, 265 Essex Street, Suite 101. This event is the highlight of the season and sells out quickly!
Other activities include:
The Salem Trolley offers trolley rides around the festival route (weather permitting) during the day on Feb. 6th and 7th for a discounted price. Pick-up locations will be at the Visitor Center, Pickering Wharf, and near Rockafellas on Washington Street.
New this year, Salem Parks Recreation and Community Services will operate a small skating rink at the Museum Place Mall Fountain. Come out for hot cocoa and family fun on Feb. 6th from 5 to 8 pm and Feb. 7th from noon to 4 pm!
Visit our website for more events and details about the festival as they become available: www.salemmainstreets.org – or follow our Facebook page for all the latest updates https://www.facebook.com/salemsosweet.
And, of course don't forget to post pictures as you visit Salem MA with your loved ones for a sweet experience during Salem's So Sweet Chocolate & Ice Sculpture Festival.