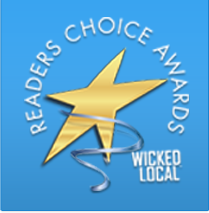 North Shore customers were recently asked to vote on their favorite businesses for the annual (20th this year!) Wicked Local Reader's Choice Awards. Salem placed very nicely in a number of the categories, especially businesses in the Downtown District.
There were far too many categories (75!!!) and winners to list in this blog. Easier to provide you with links to pages that carried the results and you can focus on specific areas of interest to you.
But, before you click on the links for the list, some legal provisos… Reader's Choice ballots were published in January & February…. winners were verified by an independent firm hired to tabulate votes & results… the survey was conducted as a reader poll and not as a scientific research poll.
In other words, it was for fun but there's more than enough weight to tip the scales to attract your interest to visit the Salem businesses mentioned.
Congratulations to the winners, Gold, Silver, Bronze, #1 Choice and Honorable Mentions.