Ten years of down beats, up beats, rhythm and horns will be celebrated this year as the Salem Jazz & Soul Festival kicks off its Berklee Summer Series May 14th in Salem's Derby Square.
The spacious, open air ambiance of Derby Square lends itself so well to the diverse live funk, soul, blues and jazz music performances scheduled this year.
By offering this series of annual free concerts, concluding with the main festival at the Willows (the third weekend in August), The Salem Jazz and Soul Festival is "recreating and renewing the vibrant jazz scene that began in the early 20th century, when Duke Ellington and other musicians from the Big Band era played at the seaside park."
May 14th Performers
MIXCLA, a trio consisting of students from the Berklee College of Music, will play at the first SJSF/Berklee Summer Series concert.
MIXCLA is a play on words between mezcla (which means mixture) and mix.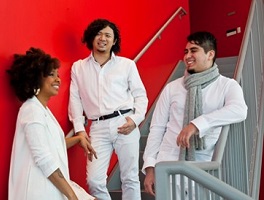 SJSF describes it in this way "It is a merging of cultures hailed from the mountains of Chile, to the traditions of Japan, which driven by the fires of Cuba achieve a truly unique Latin jazz experience."
Sounds interesting.
MIXCLA is led by composer/pianist and singer Zahili Gonzalez Zamora, with Gerson Esteban Lazo Quiroga on bass and backing vocals, and Takafumi Nikaido on percussion. You would expect that this mixture of cultural spices to cook up the perfect recipe for one of a kind musical experience.
Zahili Gonzalez Zamora, explains, "We are truly excited to be a part of the Salem Jazz & Soul Festival Berklee Summer Series; it is another opportunity to share our love and passion for music.
We are three individuals from three different parts of the world, yet, we found each other at Berklee and came together as a musical family with one common thing in mind, we love Cuban music.
I am bias of course. But Gerson? All the way from Chile, he pretty much self taught himself music and ended up avidly listening and falling in love with Cuban music. He began transcribing his favorite bass players, especially Alain Perez, a bass virtuoso from Cuba. Then Taka? He has already been to Cuba twice, studied with the Masters of Percussion and actually won a prize in Cuba's most important Festival Del Tambor.
When I found them, I said to myself, these are my brothers. I cannot let them go. I feel at home when we are playing, and their faces tell me they feel the same, and it gets better and better. So now, I'm just really happy that we get to share what we have with the crowd of the Salem Jazz & Soul Festival.
Plus, we get to represent our school, which is also an honor."
Three more SJSF/Berklee Summer Series concerts will take place this year: Maddie Jay & the pH Collective on June 11; Selah Poitier on July 9; and RickExpress on Aug. 13.
The 10th-annual Salem Jazz and Soul Festival will follow at The Willows during the weekend of Aug. 20-21, featuring 10 bands, a kids' tent, music-education tent, artisan fair and 21-plus beer pavilion. The two-day concert is free.
The festival is a nonprofit, volunteer-run organization that produces free concerts and raises money for music education causes on the North Shore.
For up-to-date information, check out the Salem Jazz & Soul Festival Facebook page.