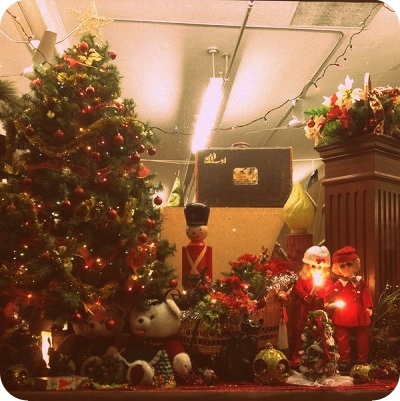 Can you remember a simpler time when holiday shopping was a simple stroll through friendly hometown stores and not a race through impersonal, giant, crowded malls? We do. And we are bringing that back.
Salem Main Streets is introducing a Holiday Stroll on Saturday, Dec. 13th to encourage residents to shop local and enjoy their downtown during the holiday season. Over 40 downtown retailers have committed to staying open until 8 pm on the 13th, and most will be offering special holiday discounts, promotions, and yummy refreshments all day.
How's that for customer appreciation and "small town" ambiance.
A full list of participating retailers is available for your use.
In keeping with our goal of this being a total community effort, Boy Scout Troop 83 will be running a gift-wrapping station on Derby Square throughout the day, and will be joined by Troop 24, which will be selling wreaths in part to benefit the restoration of the Arch on Salem Common.
And while we are promoting all things Salem for Dec. 13th, don't miss the Pickering Wharf businesses' Winter Walk of the Wharf, including a stroll with Santa from 1-4 pm.
But that's not the only event we have to make your trip worth your time. To add that extra bit of spice to our holiday gift to shoppers, Main Streets is once again conducting the Salem Holiday Window Contest, which runs now thru Dec. 13th.
Over 40 downtown businesses will be participating in the annual Holiday Window Contest, and this year the public can vote on their favorites at a participating business, or online at www.salemmainstreets.org/windows. These retailers go all out to do up their windows to entertain you, and if past entries are any indications (and they are!), we have many, many creative minds— and a couple of far out ones, as you would expect from Salem, MA. A full map of participating windows can be found here.  Voting ends on Dec. 13th.
And one more thing. Creative Salem is giving us an extra promotional boost (…thank you, John…) with a related photo contest. For your chance to win a Creative Salem prize pack (valued at $150) take a picture while you are strolling through town or looking at store windows. Share it on social media (Twitter, Instagram, Vine); use the hashtag #salemwindows when posting! Winner will be chosen on the 14th.
Shop, vote, take pictures, find bargains, chat with friendly sales people. All courtesy of your downtown merchants of Salem, MA.
For additional info, contact Kylie Sullivan, Salem Main Streets Manager, at 978-744-0004 or kylie@salemmainstreets.org.