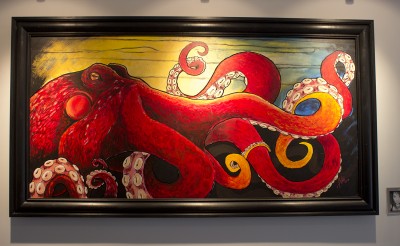 We are continuing on with our "Business Spotlight of the Month" series!  Every month, Salem Main Streets will highlight a business in downtown Salem that might be relatively unknown, off-the-beaten path, misunderstood, or just plain cool.  Next up,  Kylie and our intern Cherese paid a visit to Salem Ink.
What: Salem Ink Tattoo and Art Gallery
Where: 201 Derby Street
Owner: Loki LaChapelle
The Business:  Salem Ink has been around for a few years now, but their brand-new and very visible location on Pickering Wharf has allowed them to expand and reimagine themselves.  Part tattoo studio, part gallery, Salem Ink puts the artistry of tattoos and the local community front and center.  Many people going past Pickering Wharf lately have had questions about "the new gallery in town," and we wanted to get an inside look.
Starting in Salem: Loki LaChapelle originally opened Salem Ink on Washington Street several years ago, after being drawn to Salem's funky, artsy vibe.  Cautiously polite about what makes Salem Ink different than other tattoo studios, Loki points out that every tattoo is personal and that customers should look to find artists who match their style.  Salem Ink will take on large-scale to small work, noting that the smallest tattoos can sometimes have the most significance.
Why a Gallery?  While at their previous space on Washington Street, Salem Ink had started a small gallery in a neighboring space as an opportunity for Salem State students to show work.  Loki realized that there were few opportunities on campus for students to have their work seen and, just as importantly, sold.  The new location on Derby Street has allowed the two businesses to combine.  The current gallery showcases work by Salem Ink artists, local professional artists, and student artists from Salem State and Montserrat.  As a result, pieces range from extremely affordable smaller pieces to larger, high impact works – the large octopus piece by Salem Ink artist Ashlie featured at the top of this blog has since been sold to a local restaurant where it will hopefully have a permanent home!
Bright, bold, and inviting, Salem Ink's new digs offer much more than either a traditional tattoo studio or gallery.  Be sure to poke your head in and you'll immediately see why!