Hot on the heels of our first Business Spotlight, Salem Main Streets is pleased to introduce another new monthly feature – Citizen of the Month!  The intent of this feature will be to spotlight individuals who are going above and beyond to make Salem a great community in which to live, work, and play.  Hopefully, you'll learn new ways that you can help as well.
This month we will spotlight not one, but TWO, citizens on the month – Stephanie Hagyard and Christian Haselgrove, co-founders of Salem Volunteers.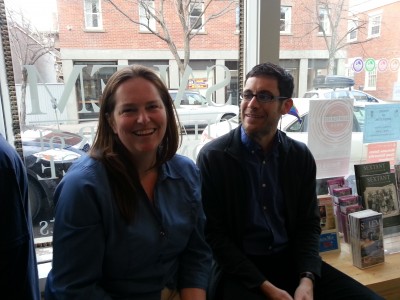 Stephanie, a 9-year-resident of Salem working at a local mortgage company, and Christian, a 7-year-resident working in IT and medical research, actually met while volunteering.  The two had both signed up to volunteer at Salem Oktoberfest.  Christian was the only one to show up in lederhosen.  Clearly, this was the beginning of a beautiful friendship.
Skip ahead to 2013 – the two friends were volunteering together at the Salem Film Fest.  They started chatting about the lack of a central place for potential volunteers to learn about opportunities around town; Christian had only found out about volunteering at the Film Fest because Stephanie happened to mention it.  With that, Salem Volunteers was born.
Salem Volunteers strives to be a clearinghouse for volunteer opportunities around town.  While they do not physically match volunteers with organizations, Stephanie and Christian manage a website, a weekly newsletter, and an active Facebook profile to promote the many organizations and events in Salem looking for volunteer help.  All of this is accomplished on their own time and expense.
Both Stephanie and Christian are extremely active volunteers, explaining that volunteering is a great way to give back, share your passions, and connect with the community.  They're two of Salem Main Streets' most reliable volunteers – in the past year alone, one or both have volunteered to help at the Salem Arts Festival, the Salem Farmers Market, the Haunted Happenings info booth, and New Years Eve.
If you haven't had the pleasure of meeting Stephanie and Christian yet, keep your eyes open at the next community event you attend.   Don't be afraid to introduce yourself and ask how you can help, or email them at info@salemvolunteers.org now to get started!
Do you know a good candidate for Citizen of the Month?  A neighbor, a colleague, a random do-gooder you've consistently noticed around town?  We want to hear about it!  Email Kylie at kylie@salemmainstreets.org with recommendations.