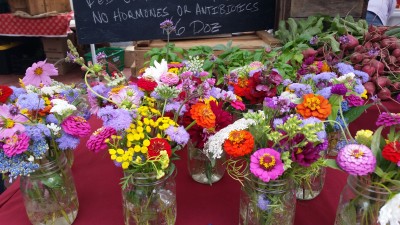 Those aren't our sentiments this time. Those words are a key part of a headline and the actual first sentence in a 7/28/15 Huffington Post blog. That's right. The social media powerhouse, Huffington Post referred to life at the Farmers' Market as something important to the community. We know that here in Salem where regular attendees to our Thursday Farmers' Market (3-7pm in Derby Square) don't just grab & go. They stay and chat with the farmers and vendors. There is a community connection that flows over the counter.
Blogger Teri Turner reinforces that "I love talking to the farmers-who awakened three hours before I did-about what they grow, and what's in season." Her blog also focuses on the fact that her area Farmers' Markets give a great deal of space to something not often seen at FM: items from the ocean.
And besides fruits and veggies, the Salem Farmers' Market also has fresh seafood: including lobsters! You actually can bring home your personal "catch of the day" in a bargain buy!
If you've never been to our Farmers' Market, mark your calendar for an entertaining and informative experience, Thursday from 3-7pm in Derby Square. Fruits, vegetables, flowers, bread, seafood, music and more.