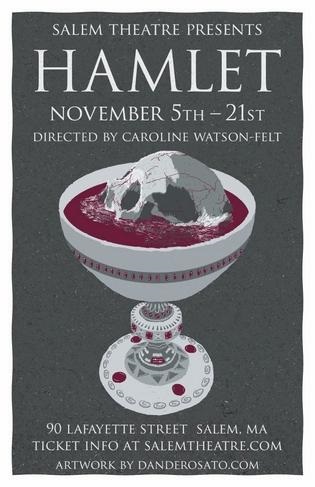 Murder, betrayal, grief, political intrigue, revenge. Sounds like any number of series currently on TV. In fact these are the powerful elements of William Shakespeare's tragic piece Hamlet, being staged by the Salem Theatre, Nov. 5-21 – the final performance in the black box theatre at 90 Lafayette Street before the company moves to a shiny new space in February.
Directed by Caroline Watson-Felt, Salem Theatre describes Hamlet as  "one of Shakespeare's most beautiful, thoughtful, and sad tragedies. It is the story of a young man who discovers and loses himself all at the same time. We are our own worst enemies when we cannot reconcile loss, love, anger, and the dark corners of our own mind."
Hamlet as a play is also interesting in that the obsession that will darken Hamlet's life when we meet him actually takes place before the play even starts. His father the King of Denmark has passed away, his mother has rather quickly remarried to his father's brother, and as you can well guess "something is rotten in the state of Denmark."
This plot line is furthered along by the appearance of a ghost claiming to be the father, further claiming that his brother did indeed kill him. A ghost? Perfect for post-Halloween Salem MA audiences.
Speaking of audiences, this will be the last production mounted for audiences at the 90 Lafayette Street locale.  Salem Theatre will be setting up stage at a new space in Shetland Park in 2016.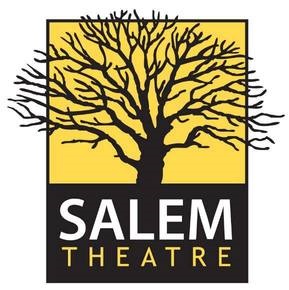 But for now performances will take place on Nov. 5-7, 12-14, and 19-21 at 7:30pm, with additional shows at 3pm on Nov 8 and 15.
Student Night performance of Hamlet will be Sunday, Nov. 15 at 3pm, with all student tickets reduced down to $5 with student ID.
LGBT Night will be Tuesday Nov. 20 at 7:30pm. Get $5 off the price of tickets for that performance by using the discount code LGBTHAMLET.
Tickets are otherwise $12-25 online and $15-30 at the door. Purchase online through www.salemtheatre.com.
To be or not to be… obsessed with revenge — if you were in Hamlet's shoes, would you make the same choices?
(Hamlet Artwork /Photo courtesy of Dan DeRosato)