Beautiful weather for appreciation of art in its many forms today in Salem Ma.: partly sunny with high around 45 degrees and no rain in the forecast. The Salem Arts Association is hosting a festive Holiday Artists' Market with live music and a seasonal theme, from 10am to 5pm at Old Town Hall.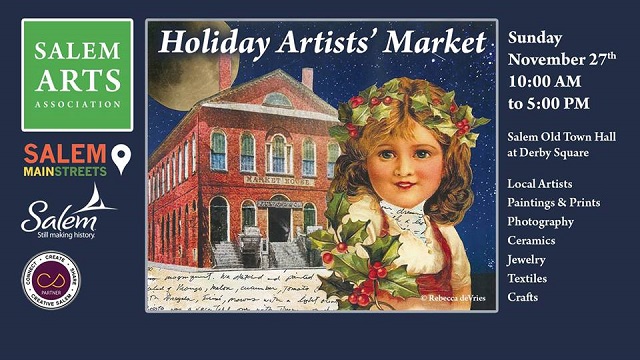 Come visit a lively market with all kinds of opportunities for our community & neighbors along the North Shore to browse and shop for treasures for self, friends and, of course, family.
The Holiday Artists' Market will feature a variety of local artisans and crafters offering original artwork, unique gifts, and hand-made housewares to delight yourself or gift to others.
Festivities throughout the day will include live music, activities for children, and a very special visit from Queen Elsa of Arendelle (made popular in Disney's Frozen movie)!
The Holiday Artists' Market takes place at Old Town Hall, 32 Derby Square, Salem Ma. It's a convenient holiday shopping daytrip destination for you and your family.