Poetry is a bouquet, and just as a bouquet of flowers may be filled with colors, shapes, and scents, so to is a poem a blend of words, rhythms, and sounds. This will be evident May 5-7th when the 9th annual Massachusetts Poetry Festival welcomes many of America's most admired poets to a celebration of Massachusetts' lively contemporary poetry scene in historic downtown Salem, MA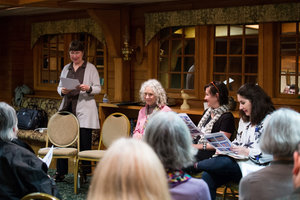 The Mass Poetry Festival offers nearly 100 poetry readings and workshops, a small press and literary fair, panels, poetry slams, and open-air readings. Panel topics range broadly from The State of Poetry, poetry and gender, poetry and aging, book publishing, and children's poetry.
Of special note, on Friday, May 5, MPF will host a "Student Day of Poetry" in which 300 high school students from across the Commonwealth study with acclaimed poets and instructors to discover their own unique voice.
Throughout the weekend, you are also invited to absorb the thoughts and expressions of acclaimed poets such as: Pulitzer-prize winner and former U.S. Poet Laureate Louise Glück, Guggenheim fellow Eileen Myles, Kazim Ali, Andrea Cohen, Cornelius Eady and Rough Magic, Ross Gay, Rigoberto González, Aimee Nezhukumatathil, Emily Pettit, Tom Sleigh, and Dara Wier.
For a full breakdown of the schedule go to the MPF site.
As example of the diversity:
Friday from 1:15- 2:15pm at Old Town Hall (second floor) 32 Derby Square, a relatively new genre of music known as Post Rock will be combined with poetry and in so doing create "Post Rock Poetry." Grounded in 1980's and 90's indie rock music, it is primarily instrumental, guitar, base, drums, and keyboard, with few lyrics. Typically, post rock pieces are lengthy and may contain, "… repetitive build ups of timbre, dynamics and texture." (Wikipedia, 9/11/2016.) Because Post Rock seldom has lyrics, it lends itself to the creation of Post Rock Poetry that can explore the quest for a peace, understanding, and rising above hostilities and misfortune. In short, it rings with hope.
Then Friday evening, two of the finest poets writing today— the award-winning Ross Gay and Aimee Nezhukumatathil— will present from 7:30–9 p.m. in the Atrium of the Peabody Essex Museum.
Saturday afternoon will feature a musical performance by Cornelius Eady and his band Rough Magic, blending poetry and music at the Peabody Essex Museum. Headline poets Andrea Cohen, Tom Sleigh, Kazim Ali, and Rigoberto González will read throughout the day at the Peabody Essex Museum, celebrating the diversity and common threads among us all.
Saturday evening will feature award-winning poet and novelist Eileen Myles, 7:30–9 p.m. at The Bridge at 211. After her reading, she will be interviewed by WBUR's celebrated host Christopher Lydon. Eileen Myles demonstrates the extraordinary possibilities of poetry to reveal the personal and political experiences of American life.
Venues
Peabody Essex Museum, 161 Essex Street
Hawthorne Hotel, 18 Washington Square
Old Town Hall, 32 Derby Square
Museum Place Mall, 1 E India Square Mall, New Liberty Charter School, Rooms 1-4 (on second floor)
The Bridge at 211 (Universalist Unitarian Church), 211 Bridge St
Howling Wolf, 76 Lafayette Street
From the beginning, the goals of Mass Poetry have been to "support poets and poetry in Massachusetts, to build new audiences for poetry, and to make poetry more accessible for those who need it most—often those who have the least access to it." By bringing it to the streets and venues in Salem Ma, accessible to residents and visitors, the poetic bouquet of words, rhythms, and sounds can be enjoyed by so many more. You are invited to be among them.
Admission is $20, and $7 for students & seniors; an additional $10 service fee is charged for all workshops.
For additional info on The Massachusetts Poetry Festival, contact January Gill O'Neil at january@masspoetry.org.
(Photo courtesy of Creative Salem)