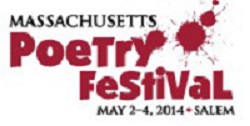 Letters become words, words become phrases, and phrases become ideas. Then gifted writers craft it all into messages for poems. Those writers, words and poems will be honored later this week as the annual Massachusetts Poetry Festival will be held from May 2 – 4 in downtown Salem.
Participating poets include Kim Addonizio, Lucie Brock-Broido, Rafael Campo, Oliver de la Paz, Carol Ann Duffy, Cornelius Eady, Rhina Espaillat, Forrest Gander, David Ferry, Li-Young Lee, Philip Levine, Marge Piercy, Susan Rich, Vivian Shipley, and C. D. Wright.
But more than just poems though, the Festival also offers workshops, panels, readings, music, visual arts presentations, and a book fair featuring small presses and literary magazines.
As stated on the Mass Poetry website: "It's a perfect time to celebrate poetry, meet up with old friends that share your love of words, and make new friends."
To find out more about the Festival go to their website.