For people who may have been away, the question we've been hearing is, "what happened to that cute little bath product store called Scrub. Used to be on Essex."
It's still here. As are "sister" stores The Beehive and Roost, located at 40 Front St.
Co-owner Jamie Metsch explains, "we had an opportunity to create a convenient, one-stop shopping location on Front street. Having all the stores behind one door makes it easier for our customers to get all their home, bath, baby, gifts and cards at the same time."
He adds, "the Beehive and Scrub were originally offshoots of Roost. Cards and bath products have always been, and continue to be categories we carry on Front street, so it was easy to integrate Scrub back into its original home."
Described as urban country design, it is an experience as you walk through the store to see an original mix of art, furniture, gifts, accessories, lighting, jewelry & bath products.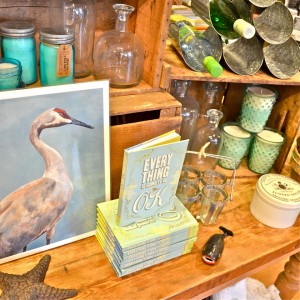 "Roost is about an experience … an experience, that we hope, makes you feel like you've just discovered a place that is comfortable, unique, and so cute that you want to live in our store," Metsch explains.
"So rather than our identity being tied to a specific type of product, we're always changing things up. It's not only fun and exciting for us to keep things fresh, it's exciting for our customers to be part of the adventure and see what we'll have next week."
You can follow Roost/Beehive/Scrub on Facebook  and Twitter.