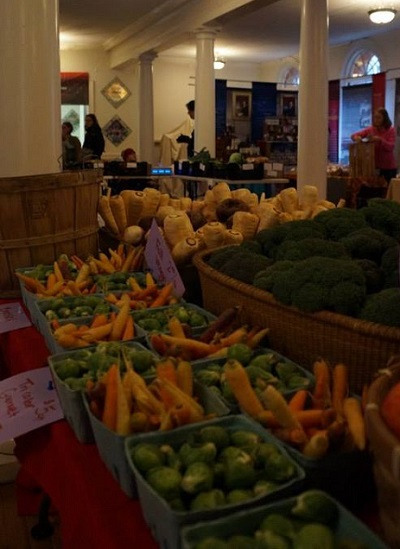 Making a list and checking it twice, we hope, has been the activity of our friends and neighbors this week in preparation for the final Winter Market of the season, Thursday 12/19/13.
Time to stock up for the Holidays! And to say "See ya next year" to the accommodating vendors who not only sell items but also share informative conversations with their customers.
To mark the event, Mayor Kimberley Driscoll will ring the bell at 3pm to kick off the final market.
"The Winter Market is a fantastic opportunity to combine your grocery and holiday shopping, all while supporting local businesses," states Kylie Sullivan, manager of Salem Main Streets and organizer of the market.
"Whether you're stocking up your pantry or crossing items off your holiday gift list, our range of vendors makes the Market a one-stop shopping destination."
The Winter Market includes produce from local farms, pasture-fed meat, spices, pickles, soup, baked goods, artisan soap, jewelry, wreaths, and more. All items are grown or produced in New England.
But for this final session there will be some extra "gifts" (enough to fill Santa's sleigh!) for attendees:
Young visitors will have the opportunity to catch a visit from Santa! (hint 3 to 4:30 pm)

$1-a-pound specials for select produce at Clark Farm

Wreaths and trees from Wally's Vegetables

Holiday gift baskets at Salem Soapworks

Gift certificates for cheesemaking classes at Wolf Meadow Farm

Sales on all Shine Jewelry items

New vendor We All Scream for Ice Cream Co will be there again with vegan, gluten-free ice cream in a variety of fun flavors (she's come the past two weeks to test out this brand-new business)

Summer market favorite Tangerine Pastry will also be there

Dorothy Malcolm will be there selling copies of "Legendary Locals of Salem"

Historic New England will be our guest non-profit this week, sharing Christmas/holiday-related stories and information

City of Salem Ma will be holding a flu clinic
Current Vendors at the 2013 Winter Market
Farm Vendors (produce): Clark Farm, Grant Family Farm, Long Hill Orchard & Farm, Wally's Vegetables
Non-Farm Vendors (not produce): Big Sky Bakery (bread), Great Cape Baking Company (baked goods), Piper Ranch (meat), Salem Spice (spices, also selling Maitland Mountain Farm's pickles), Tangerine Pastry (macarons, pastries), Valicenti Organico (pasta/sauces), We All Scream Ice Cream Co (vegan, gluten-free ice cream), Wolf Meadow Farm (cheese).
Artisan Vendors: Salem Soapworks, Shine Jewelry/Heritage Industries
The Salem Winter Market is also looking for feedback. If you've visited the Salem Winter Market this year (or even if you haven't), please take a few minutes to fill out this survey.

The final market runs from 3–6 pm at Old Town Hall. Old Town Hall is adjacent to Derby Square on Front Street, where the summer farmers' market is held.